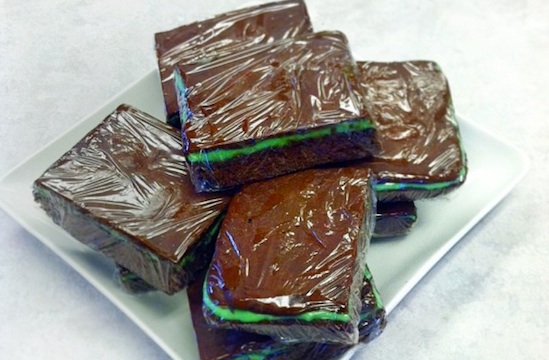 And this is why Boulder, Colorado* is great: because only in Boulder can a pastry chef figure out how to make your average pot brownie into a gourmet, vegan, and gluten-free dessert that sounds amazing — even without the pot in it! (Vegan and gluten-free because, you know, it's Boulder.)
New York magazine has found Karin Lazarus, founder of the Sweet Mary Jane bakery, to be the "Martha Stewart of weed baking." She's clearly found her niche. Pumpkin and white chocolate bars, oatmeal cookies, THC-laced truffles — Lazarus has it all. The secret is Lazarus' "cannabutter," butter laced with THC, and sugar laced with THC; some of her baked goods contain up to 150 mcg. Because, in case you didn't know, weed actually doesn't taste that good.
Since Colorado may just make recreational weed use legal once and for all, Lazarus' possibilities — and customers across the country looking for a delicious "baked" good — are endless. So we officially call on Lazarus and Christina Tosi to come together to make all of our dessert and weed dreams come true. THC-infused crack pie?! THC compost cookies?! Get on it, ladies. (If Tosi's not into it, Eddie Huang might be available.)
*Full disclosure: I grew up in Colorado, and got my undergraduate degree in Boulder. I'm surprisingly not a pot head, considering all the factors.
[The Cut]
RELATED:
Happy Weekend: Have You Discovered Weed Nutella Yet?
Eddie Huang On Cooking With Weed (And Cheetos)
WATCH: The Only Way Eddie Huang Can Make Fresh Off The Boat Is With A Lot Of Weed
Have a tip we should know? tips@mediaite.com