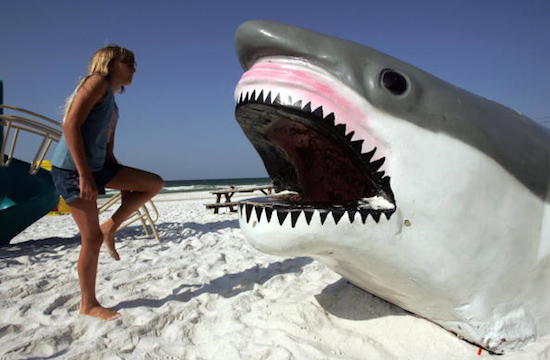 The flow chart is pretty simple — the answer is NO.
But evidently, that won't stop anyone hungry enough to take a bite out of shark, according to NPR. In fact, the popular Shark Week promotion on the Discovery Channel is actually increasing demand for shark meat, and specials from restaurants around the country. From NPR:
Shortfin mako shark, a slow-growing fish whose numbers are declining, seems to be the species of choice. It's being featured on menus all over the country — at Doc Magrogan's Oyster House in Philadelphia; Syberg's, a small restaurant chain in St. Louis; Sandbar Mexican Grill, with locations in Chandler, Ariz., and Phoenix; and GT Fish and Oyster in Chicago. In Louisiana, Rouses Supermarkets has a special on blacktip shark fillets at $4.99 a pound. Twitter is meanwhile buzzing with excitement over Shark Week specials, which often feature shark tacos and shark-themed cocktails. …

"It's opportunistic," says Sean Van Sommeran, founder of the Pelagic Shark Research Foundation in Santa Cruz. "[Restaurants] are using the celebrity of sharkism to sell more tacos than they normally would.
But wait, we wondered — wasn't shark fin soup banned a few years ago in the state of New York? Yes-ish: Quartz reported last year that Governor Cuomo "signed a law banning the trade, consumption or possession of shark fins. New York's not the first state; Maryland, California, Delaware, Illinois, Oregon, Washington and Hawaii have already enacted similar bans. And while a Texas recently bill failed, one is currently in the works in Massachusetts." (Massachusetts passed the ban just a month ago.) But, Quartz also notes that oh yeah, those bans aren't really going to do anything anyways. But there's also a federal mandate against finning, First We Feast noted last year, signed by President Obama in 2011.
Sharks are endangered alright, according to the IUCN Red List of Endangered Species; according to Quartz, 55 percent of all sharks are threatened and 29 percent are at high risk of extinction. NPR reports that up to 100 million sharks are killed each year, and the desired shortfin mako sharks that everyone is eating has been killed with a steady increase over the last decade. In 2012, American fishermen caught 389,000 pounds of the shortfin mako sharks, up from 212,000 pounds in 2006.
But now people are chomping at the bit for more shark meat? Evidently — people say it tastes like chicken or alligator. But this is mostly a newfound American appetite; the Chinese has been eating shark for thousands of years. NPR notes that the interest in shark fin soup has declined, as groups like WildAid work to curb demand for the valuable fins. And you know, maybe the news that high levels of mercury and arsenic found in shark meat may actually kill you.
So maybe just enjoy your stupid Jaws-like stupor and keep the sharks in the ocean, alright you blood-thirsty-monsters?
Kidding. Ish.
[NPR, Quartz, First We Feast, IUCN Red List, Discovery]
RELATED: WATCH: It's Shark Week, So Let Gordon Ramsay Remind You Not To Eat Sharks
Have a tip we should know? tips@mediaite.com