Today Show Reports 'Smoking Alcohol' As 'Dangerous Viral Trend'; LA Times Sees Hip Foodie Invention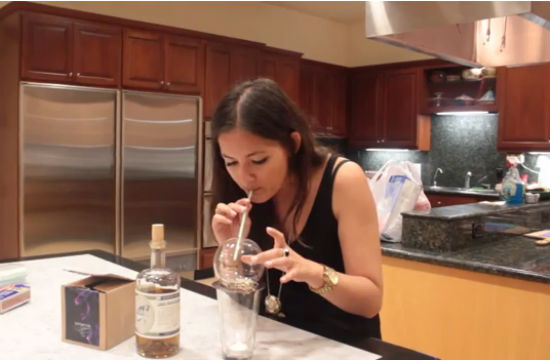 About a month ago, The Today Show reported on the latest "dangerous viral trend" affecting teens: SMOKING ALCOHOL. Yeah, it's the new eyeballing/vodka tamponing for "young people" seeking to score "an instant high." The segment was basically a completely alarmist Rossen Report on all the teenagers making YouTube videos of themselves inhaling booze out of homemade alcohol bongs, and recording the effects of its insta-buzz.
"Doctors say it can poison you faster," the clip explains.
"These videos scare the hell outta me," some tightwad from the Partnership for a Drug-free America chimes in.
"When you're consuming alcohol, you're consuming calories. Period," a physician informs us, of the alleged weight-loss "benefits" of smoking alcohol as opposed to drinking it.
Of course, The Los Angeles Times looks at the very same DANGEROUS VIRAL TREND through the lens of a mass-marketed liquor bong — The Vaportini — and just sees a fashionable new foodie trend. What's the big deal, guys?
Vaportini creator Julie Palmer came up with the idea for a liquor vaporizer after spending time at a sauna in Helsinki, where people would pour vodka over the coals and inhale the vapors.
"I definitely felt the effects of the alcohol," said Palmer. "I thought it was cool to experience it in a new way."
The adorbz little contraption is essentially a mini-distiller, which, by vaporizing already distilled liquor, gives you a smoother, purer hit of alcohol than you started out with. Palmer recommends using infused liquors that are 80-100 proof so that you can detect a discernible flavor from your vapor, kind of like flavored hookah.
You can watch sweet, perky Jenn Harris of The LA Times test out the Vaportini with absinthe below (she both thinks it's great and compares it to sniffing brandy), followed by Matt Lauer and Jeff Rossen's completely contradictory, very scary account. Don't try this at home, kids. Unless you're a food writer, then it's fine.
Visit NBCNews.com for breaking news, world news, and news about the economy
[LA Times]
Have a tip we should know? tips@mediaite.com