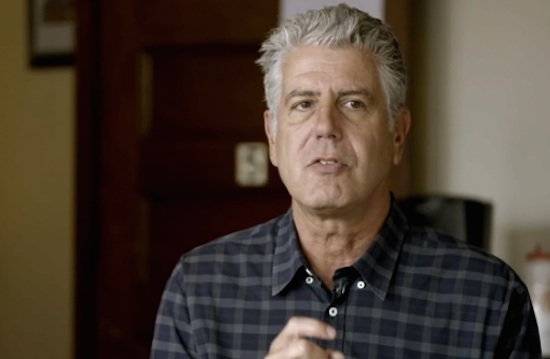 Last night's Parts Unknown episode was perhaps only the second most talked-about episode of the season. And that's because Anthony Bourdain went to a familiar place, his hometown in Western Massachusetts, where he uncovered the very sordid details of his past — the kind of stuff we haven't heard from him since Kitchen Confidential came out.
In addition to some stellar shots of him in the 70s, Bourdain gives us a glimpse of what his drug use was really like. Saying he did just about all of his "firsts" on a beach, he made a stop in Provincetown, Mass., where he first began his career as a chef. "That was the Sodom-and-Gommorah-by-the-Sea over there, a big candy store for a horny, stupid, 17-year-old with a taste for chemicals," he said about the town. Then, heading west to experience the heroin epidemic firsthand, a doctor tells Bourdain that the flux of pain pills has led to a crisis in small-town America: when people with injuries become addicted to pain pills and then can't get any more, they turn to heroin.
Still, what's perhaps the most moving about the episode is Bourdain's visit to the Recover Project, an Alcoholics Anonymous-type recovery group, where he shares his story. In his words:
The first time I shot up I looked at myself in the mirror with a big grin. Something was missing in me, whether it was a self-image situation, whether it was a character flaw… There was some dark genie inside me that led me to dope… Anybody could find themselves very easily in that situation. I looked in a mirror and I saw somebody worth saving or I wanted to at least try real hard and save. I look back on that and I think about what I'll tell my (seven-year-old) daughter. That was daddy, no doubt about it. But I hope I'll be able to say that was daddy then, this is daddy now. That I'm alive and living in hope.
So on top of trying to change everyone's opinion of war-torn countries, he's trying to win the War on Drugs himself — a noble cause.
[CNN]
RELATED: "WATCH: Anthony Bourdain Appears on CNN to Appeal for Jason Rezaian's Release
Here's A Goofy Anthony Bourdain In Cartoon Form (We're Giggling A Little)
"Bourdain Comes Back to the Iran Haters: 'Guess We Shouldn't Show People … Anywhere We Find the Policies Repugnant?'
Have a tip we should know? tips@mediaite.com