Some Chefs Drop Foie Gras Suppliers, and Some Chefs Put Foie Gras on a Seal Burger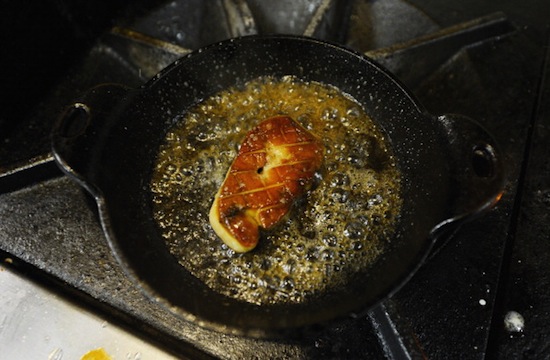 It's one of those moments where you say, "Oh good, a chef has taken action against animal cruelty, moving on with the world," … and then three minutes later, "WHAT THE MOTHER EFFING …"
At least that's how we felt after news broke that Gordon Ramsay and Joël Robuchon decided to drop the French Ernest Soulard foie gras supplier, after a video alleging disturbing animal cruelty. (The firm maintains its stance that the animals are being treated fairly — fine and good.) That's made some activists very happy.
Then, of course, we find that a restaurant in Quebec, Côté-Est, has been serving what Grist calls "the ultimate trollburger" — a seal burger topped with foie gras. Because shitting on birds wasn't enough, apparently. The restaurant's been serving the "Phoque Bardot" ("phoque" for "seal" in French, Bardot for Bridgette Bardot, a famed seal hunt and foie gras opponent) since 2012. The true controversy has only just been stirred up now, after activists found the burger on Facebook and began sending death threats to the owner, Kim Côté. The restaurant maintains that the seal meat is federally inspected and legal, but no word on the foie gras. Because in this case, the foie gras is most likely an after thought. And the burger is still on the menu.
So, in conclusion on the state of the world: nothing matters, everything is in equilibrium, some people set out to save animals and some set out to destroy them, and we're just going to go eat a farm-raised, pasture-fed, no-hormone, antibiotic-free burger. Because that's in equilibrium, right?
[Examiner, Eater, Grist, CBC News]
RELATED:
Tonight in Food TV: Knife Fight's Semi-Legal Foods Battles, Featuring Haggis and Foie Gras
Court of Appeals Rules that California Can Ban Foie Gras Production
WATCH: Happy Geese Make The Happiest Foie Gras
Have a tip we should know? tips@mediaite.com