The Internet's Best Reactions SpaghettiO's Pearl Harbor Tweet, Because It's The Weekend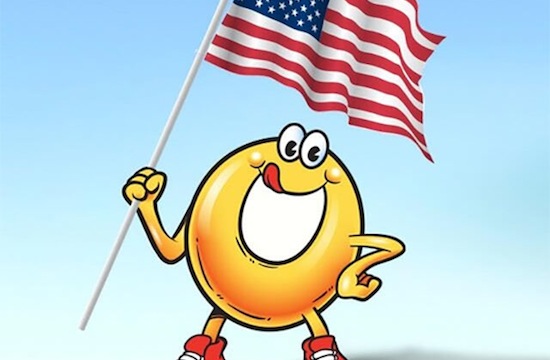 There's a whole lot of opinions out there trolling the Internet, but sometimes, by magic, the world can come to a consensus and determine that something is just downright wrong. And that's exactly what happened in humanity versus SpaghettiOs.
We too noticed a little something weird about that SpaghettiOs' Pearl Harbor Tweet — because you can't unsee a SpaghettiO holding an American flag — and started the countdown for an apology Tweet to be sent into the world. Fortunately, the Internet was on it and whiplashed them for it anyways. Of course the Tweet is down now and everyone's really sorry about it, but we're still going to enjoy these reactions anyways. Especially the Tweets by Patton Oswalt , who just wins at everything.
I remember it being sadder than this in History class RT @SpaghettiOs Take a moment to remember #PearlHarbor with us. http://t.co/03gjyQvkeZ

— Daniel (@TheUnDaniel) December 7, 2013
Didn't the Chef Boyardee people learn anything from the SpaghettiOs mess? For shame. pic.twitter.com/rvDhVUJK0j

— Dan Ewen (@VaguelyFunnyDan) December 7, 2013
This isn't the first time the @SpaghettiOs guy has shown up at inopportune times #UhOhSpaghettios pic.twitter.com/g93ZSgpz94

— Benjamin Lipsman (@blipsman) December 7, 2013
Even if the SpaghettiOs people may have goofed, remember: FINALLY, canned pasta has weighed in on Pearl Harbor Day!

— Julie Klausner (@julieklausner) December 7, 2013
Great moments in @SpaghettiOs history: the Yalta Conference. pic.twitter.com/aUXyEspYzx

— Thierry (@tcote) December 7, 2013
"Uh-oh, @SpaghettiOs the humanity!" pic.twitter.com/FMY5AbYIvy

— Patton Oswalt (@pattonoswalt) December 7, 2013
Dear @SpaghettiOs: Genuinely afraid to scroll back & see what you Tweeted on the 50th anniversary of JFKs assassination.

— Patton Oswalt (@pattonoswalt) December 7, 2013
Thoughts and prayers go out to the @SpaghettiOs social media team, spending the weekend in the Punishment Tub: pic.twitter.com/mwz2NsYwm1

— Patton Oswalt (@pattonoswalt) December 7, 2013
RELATED:
Anti-Gay Barilla Pasta Tapped Ted Allen for Nationwide Campaign Back in the Days of Queer Eye
Mario Batali Supports Women's Right To Choose, Gets Told to 'Stay in the Kitchen' by Twitter Trolls
Dunkin Donuts Thailand Runs 'Charcoal Donut' Ad Using Woman in Blackface, No One In Thailand Cares
Have a tip we should know? tips@mediaite.com