Sriracha to Return to Store Shelves (Yay!), May Move Production to Texas (Yay?)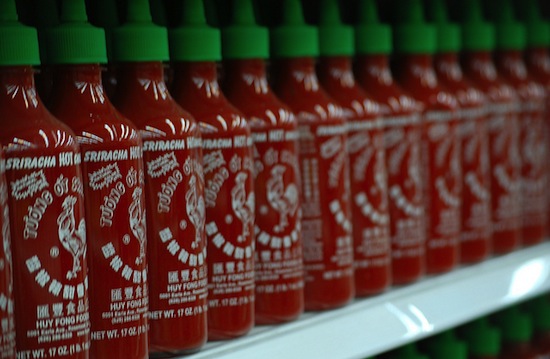 Sriracha's comin' ba-ack. Sriracha's comin' ba-ack. After Huy Fong Foods shut down their Irwindale, CA factory to comply with a judge's order to stop burning everyone's eyes and throats out with jalapeno fumes, production of Sriracha, the notoriously fiery condiment/liquid Pompeii sauce, temporarily halted.
BUT NOW IT'S BACK, BITCHES, AND THERE'S NOTHING YOU CAN DO TO STOP THE FIERCE GEYSER OF VINEGAR AND PEPPER FROM REGAINING ITS FORMER MARKET SHARE.
ABC News reports that the company will resume production at the end of this month. But should the city of Irwindale continue to bite the hand that feeds them (seriously, there's nothing in Irwindale except rock quarries), a Texas state representative told the LA Times that he invited Huy Fong to move their factory to, well, Texas.
But it's really for political reasons, as very plainly stated in Jason Villalba's free-marketeering letter:
"As a public official and a corporate attorney for small businesses, I am extremely troubled by excessive government interference in the operations of private, job-creating businesses like Huy Fong Foods," wrote Villalba in his letter. "You have worked too hard and have helped too many people to let government bureaucrats shut down your thriving business."…

He notes in his letter that in Texas there are no personal or corporate state income taxes and a plentiful non-union labor pool. He also mentions that Forbes Magazine named Texas the best climate in the country to grow a business.

"The great state of Texas would welcome you and your employees with open arms if you would consider moving…" reads the letter. "…Texas could provide you with exactly what you need to continue to grow, build and maximize the opportunities of Huy Fong Foods."
The one problem is that Huy Fong's sourced their jalapenos from the same Southern California farm for the entirety of their existence, preferring to process their peppers on the precise day they've been picked. (Hello, tongue twister.) David Tran, the owner, did not respond to requests for a statement, but Villalbla is hopeful that Tran will 1) come to Texas and 2) make a Sriracha BBQ sauce.
In any case, it's back and we're happy and my parents will stop flipping out and all is right in the world.
RELATED:
This Time It's Real: Judge Orders Sriracha Factory to Close
Judge Orders Huy Fong Foods to Stop Shipping Sriracha until Mid-January
City Petitions Sriracha Factory to Stop Burning Their Eyes Out With Chili Fumes
Have a tip we should know? tips@mediaite.com