Srirachapocalypse, Nah: It's the Velveeta #Cheesepocalypse We Should All Be Freaking Out About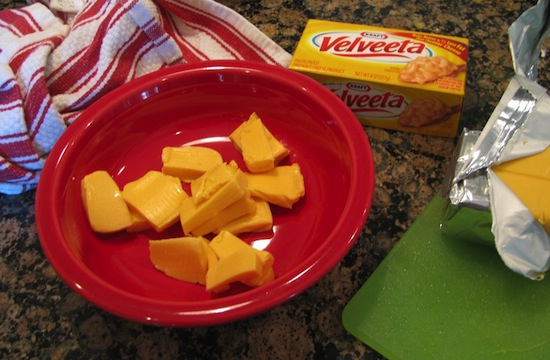 And here you were, thinking that no Sriracha would be the worst thing that ever happened to you. Well, guess what? There's not going to be any queso at your Superbowl parties AND YOU WILL SUFFER BECAUSE OF IT.*
The rumors are true: Velveeta is in fact endangered this Superbowl season, as the cheesemaker is, well, running out of cheese. The trouble started when Velveeta switched production plants over the summer, which caused some snafus. Memos from the company to its vendors asked them to be patient as the company experienced limited availability for the 8-ounce and 16-ounce "loafs" of Velveeta. (Note: when cheese is in a "loaf," there's a good chance that it's not a good idea to buy it.)
So of course, everyone freaked out and Velveeta responded to the cheese-passionate on its Tumblr. (Who knew Velveeta was cool enough to have a Tumblr? It clearly only created the Tumblr for this very problem, but still. This writer doesn't even have a Tumblr, and somehow a fake cheese product has beat us to it.) And we're kind of dying:
While the current Cheesepocalypse is a difficult time for our great nation, we are incredibly humbled and appreciative of the outpouring of love and support for the Liquid Gold of Velveeta… We want you to hear directly from us that it's true–we are experiencing a temporary scarcity of our nation's most precious commodity: Liquid Gold. But please know that we are working tirelessly to get more Velveeta on store shelves as soon as possible and that this was in no way a "publicity stunt." We always want Velveeta where it belongs–in your hands, in your homes and in your stomachs.

Stick with us in the coming weeks, because we want to make it up to you–and we will.
This is the world's most serious response to something that IS REALLY NOT A PROBLEM. Or at the very least, a minor #firstworldproblem. And Jon Stewart really knows how to ease our worries.
#TDSBreakingNews Kraft cheese warns of Velveeta shortage. Luckily, orange food coloring and glue still abound! #SameGreatTaste

— The Daily Show (@TheDailyShow) January 8, 2014
Oh, and so does Modernist Cuisine, which tweeted out its recipe for Melty Queso Dip that uses sodium citrate, pepperjack cheese, and beer. We want, but where do we find sodium citrate?
So you know, just forewarning you — the "cheesepocalypse" is in fact very real, so just everyone go home. The Superbowl is cancelled.**
*You're not really going to suffer, you know that right?
**It's not really cancelled.
[NBC News]
RELATED:
Breakfast Links: We're Running Out of Velveeta
WATCH: Richard Blais Declares Velveeta 'Molecular Gastronomy At Its Finest'
WATCH: WSJ Reporter Attempts Nathan Myhrvold's Modernist Cuisine Mac-And-Cheese
Have a tip we should know? tips@mediaite.com