Stephanie Izard Launches Little Goat Web Site And It Looks Like An Advent Calendar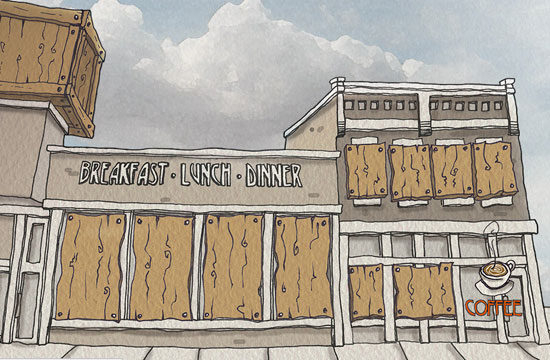 As she continues working on the launch of her new diner The Little Goat, Stephanie Izard has given her fans some Internet Treats. She launched the diner's website and Facebook page today, and the website is really, really, really, really adorable! Even if it's a work in progress and there's only one page up! And even if the page up so far is about coffee and not chicken!
Honestly, the site (screencapped above) kind of reminds us of one of those holiday advent calendars, except instead of dusty old chocolate, we get tales about how she found her coffee: how she overlooked the rotten milk she was accidentally served with her Stumptown Coffee while she visited Brooklyn, the eventual trip she took with the purveyors to Colombia to source her beans, and her marveling at the skill needed to harvest really, really good coffee: "Watching me pick berries was like watching a snail chase a lobster across the floor, no way would I be hired (pretty sure I just made that expression up by the way. Feeling good right now)."
And if she went on a Wilderness Explorer trip to the mountains of Colombia for coffee, where on Earth did she go to source the other things she probably has to serve in a restaurant? Like, did she go cattle ranching on horseback across the plains of Texas? Did she catch Alaskan king crab with Sig on The Norwegian? Or up through the Himalayas with a sherpa to find pink salt? We would really like to see more of whatever is going on behind those windows of your website, Steph, because you're our newest candidate for The Most Interesting Woman In The World.
[Twitter]
Have a tip we should know? tips@mediaite.com