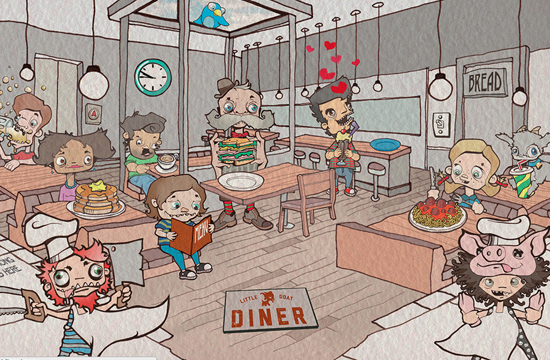 We can't say for sure whether her appearance on Top Chef: A Berry Special Edition Of Seattle was planned to coincide with the opening, but it sure is timely for Stephanie Izard to appear on the show that cemented her culinary fame shortly before the opening of her second restaurant. Because today, joy of joys, is when The Little Goat fully opens!
Her second restaurant after The Girl and The Goat, the 50's themed diner opened its deli and bakery two weeks ago, and will now throw open all its doors today, Chicagoist reports. The diner, which serves food from 7 AM to 2 AM, has some awesome sounding things on the menu, like "Fat Elvis waffles with bananas, peanut butter and maple-bacon syrup," and a "beef cheek stroganoff," and oh goodness, stop it, Stephanie, just open something here in New York already, we can't stand it.
Stephanie Izard's Cool Diner For Grown Ups came from a desire to recreate the diners of her childhood on the East Coast. "I've always wanted to recreate that classic feel but bring my passion for working with local, fresh ingredients to the diner world," she said in a statement in August announcing the concept. "I also wanted to create a spot in the West Loop neighborhood, where at all times of the day, you could grab delicious food whether you were on the go, or wanted a comfortable place to sit with family or friends."
Someone let us know how this place is (located at 820 W. Randolph Street in Chicago). Non-Midwesterners can stare at the menu here, and sigh longingly.
[Chicagoist via The Daily Meal]
Have a tip we should know? tips@mediaite.com