Stop Everything — This Guy Recreated All 107 Alinea Dishes, And It's Beautiful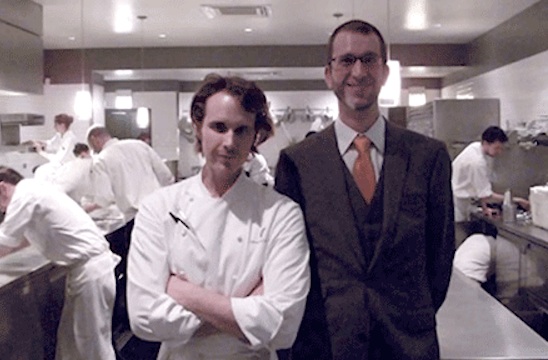 What happens when you give a really fanatical guy a great meal at Alinea? He'll spend the next five years, $42,000 (thanks to Kickstarter), and endless amount of hours recreating every. single. meal. for a personal passion project. The best part of it all? The guy's not even a chef.
Meet Allen Hemberger, just your regular Joe Schmo and visual effects artist. He fell so much in love with Alinea after one meal that he decided he would try to recreate the recipes of the Alinea cookbook at home. Of course, we sane humans know that recreating anything at Alinea is near impossible as Grant Achtaz is some sort of molecular gastronomy wizard. Nevertheless, Hemberger was in pursuit — and only five years later, he's done it. And shot more than 12,000 photos of his gorgeous recreations. (We have to know: did he eat them all after? How did they not get cold?)
In a promo video, Hemberger called the process "addictive," and the idea to stop never occurred to him. He also talks about his "ferocious need" to get Achatz's and Alinea's attention. "He was larger than life to me," he said. But sure enough, Achatz invited Hemberger to Chicago and spent an afternoon with him (sans cameras), helping him with a tricky recipe and inviting him to plate in the Alinea kitchen. That is baller status, we believe.
And yes, Achatz did tweet his approval of the project.
Pretty awesome: https://t.co/Gm5qOj0bvO
@dhemberg

— Grant Achatz (@Gachatz) November 12, 2014
It's a surprisingly sweet story of being a perfectionist (because if you are attempting to make each one of Alinea's 107 recipes perfectly, you are CRAZZZZZYYYYY perfectionist) and how to live with failure, creativity, and perseverance. Almost like our Olive Garden Pasta Pass winner, we're just super impressed with that kind of dedication.
Next question — can we rent out Hemberger for our own Alinea dinner parties at home? No? Gotcha.
Look for The Alinea Project book on shelves soon, and check the promo video.
[Youtube, Sploid h/t First We Feast]
RELATED: Grant Achatz is the President Of Everything Of the Bocuse D'or
WATCH: Nick Kokonas on Hospitality, Being Different, and His Relationship with Grant Achatz
Grant Achatz Teases a Month-Long Alinea Pop-Up in NYC This Fall
Have a tip we should know? tips@mediaite.com