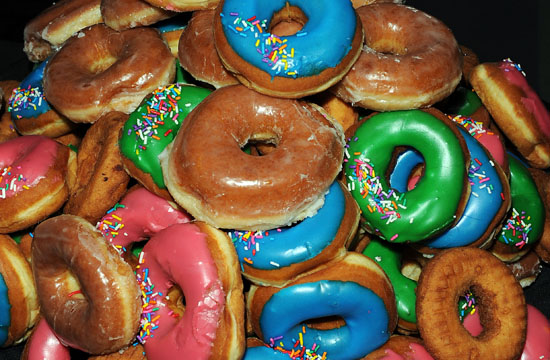 When we're old and gray and we wistfully remember the summer of 2013, our first memory will be how doughnuts seemed to dominate all of the restaurant industry: from the cronut to the Krispy Kreme burger, the entire world wanted their foods to be, for one golden moment, round, glazed, and with a hole in the middle. We'll also probably remember this new show from the Cooking Channel: Donut Showdown.
The press release that we'll store in our scrapbooks forever says that Donut Showdown "takes the donut to epicurean heights with an exciting competition between some of the best donut makers out there. Hosted by Danny Boome, Donut Showdown brings an expert panel of judges to the diner kitchen to decide which fried treats will make the cut and which ones will cause the judges' eyes to 'glaze' over." Ahahahahaha, those days.
There is a cash prize ($10,000). There is a rotating cast of hopeful bakers in matched t-shirts. There are hopes and dreams on the line. Essentially, it's like Cupcake Wars, but with doughnuts, and it's everything we, the American public, ever wanted in a food competition show.
These are the memories that we'll cling onto desperately, Tennessee Williams-style, as we sourly munch on bugs and genetically modified lentils in a home for the aged.
Donut Showdown premieres on Wednesday, July 3rd at 10:00 PM ET.
RELATED POSTS
A Brief Look At The Complicated Relationship Between Chefs And Doughnuts
WATCH: Christina Tosi Lets Roy Choi Eat All The Doughnuts In Hawaii
Hipsters, Tax Credits, And Weed Money Bring Voodoo Doughnuts To Denve
Have a tip we should know? tips@mediaite.com