The 5 Best Lines of The New York Times' Profile of Barbara Lynch and Kristen Kish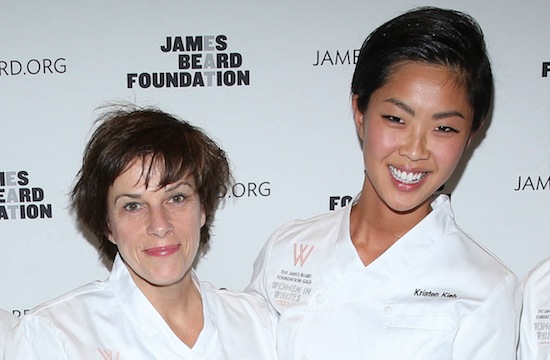 Read. Every. Word. It's that good.
As if we didn't have enough love and respect in our hearts for super-mentor Barbara Lynch and her prodigy, Kristen Kish, this profile has made our lady chef-loving heart explode. (And maybe instilled a little fear of Todd English in our hearts, too?) The whole profile is really worth a read, but we had to parse out some of our favorite lines — because Lynch is a goddamn national treasure.
Television makes [Lynch] anxious. "I'm still not that confident in myself," she says.
(God, do we love when people — not just female chefs — are REAL.)
Now the only brand Lynch is interested in pushing is that of the female chef. "It's not about me anymore. It's about the next generation. We need more women in this business."
In 2012, Lynch pushed two young chefs from her restaurant group, Kristen Kish and Stephanie Cmar, to compete on "Top Chef." … "We bonded over the fact that we were getting boob sweat, because we were the only two girls on the line," Kish said of meeting Cmar, who showed off their matching spoon tattoos.
(YES BOOB SWEAT. And also matching spoon tattoos, aww!)
Lynch grew up in South Boston, one of seven children of a widowed mother. Knuckles Lynch, as she was called then, sold pot and was an amateur bookie ("I was an entrepreneur," she says).
After working for English, Lynch eventually persuaded an executive from Stride Rite, the shoe company, to invest in her first restaurant. "I owed the I.R.S. $75,000. I lived with my mother. I drove an Isuzu Trooper without a license or insurance. Like, who the [expletive] is going to invest in me, right?" she said. But talent and tenacity made investors confident and she raised the money she needed. The restaurant, No. 9 Park, was an instant success.
National. Treasure.
RELATED:
2014 James Beard Award Nominations: The Finalists"
"Barbara Lynch on Doing The Impossible: 'Well, I Have Balls' (VIDEO)
ady Chef Stampede: Barbara Lynch Is A Boston Badass
Have a tip we should know? tips@mediaite.com