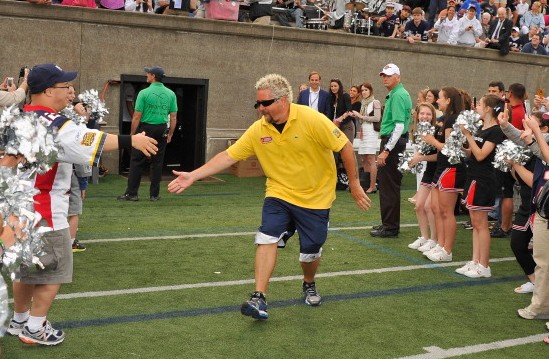 As a website based in New York City, The Braiser is contractually obligated by The Main Stream Media to be f***ing elitist pricks about our dining choices and we have endlessly snarked on Guy Fieri's new Times Square restaurant. However, this comes not from our hatred of the rest of the country, but from our ignorance of Real America; the sun-baked, fiery hell-pit where Guy Fieri was forged from a soft mound of wet, pasty mozzarella, undergoing an arduous metamorphosis into a beautiful, cheese-covered phoenix, flaming wings fueled by tequila.
We are humbled by knowledge we have no possession of, so we attempted to approach the menu for Guy's American Kitchen and Bar with an unjaded eye to find a fresh perspective and unique voice.
Did you know that if you threw a large, random assortment of non-repeating words into a hat and then pulled several of them out, you will get a unique sentence that is statistically impossible to repeat? That's Guy Fieri's unique voice.
With that in mind, here is our first ever listicle; the top six oddest-named dishes on his menu.
Buffalo Bleu-Sabi
Tossed in Jalapeno Buffalo hot sauce + bleu-sabi dipping sauce, celery and carrots.
These are one variation of Guy's chicken wings, which we are 95% sure is a food that exists (and that's practically 100%). We do, however, believe that Bleu-Sabi dipping sauce was invented by a samurai-poet in Japan during the Edo period, who wrote this haiku about his creation:
Soft, the blue and green

joined in an awesome combo

dude, this freakin' rocks.
Pulled Pork Slyders
Our righteous rotisserie pulled pork tossed with Guy's Signature Bourbon Brown Sugar BBQ sauce topped with fresh slaw on sweet Hawaiian rolls.
What is this rogue letter "y" doing in there?  Is it written with Ye Olde English Spellynge? Did the "y" pull a switcheroo with the letter "i"? Is the name "slyders" meant to imply that this is a sly, sneaky sandwich and that we should watch our valuables around it?

Pepperoni Studded Lasagna
Sweet Italian sausage, hand cut pepperoni, ricotta, mozzarella and parmesan + house made marinara
We hope this means that Guy is Bedazzling a lasagna with glittery pepperoni, preferably in the shape of a cute flower.

Rice a Munee
Basmati pilaf, vermicelli, white wine, onions, carrots, peppers and peas
All proceeds from this dish will be equally divided between MUNEE, a program that helps Eastern European and Eurasian municipalities implement cost-saving energy-efficiency improvements in vital infrastructure, and Munee, a rapper also known as "Pothead Cali."

Ferndale Lumber Jack
Rich chocolate cake, chocolate butter cream + fresh whipped cream and berry coulis
There is only one lumberjack we can think of who would ever eat this froofy, girly-ass dessert: the Monty Python lumberjack.

Guy-talian Nachos
Guy's all-star meaty, cheesy nachos packed with sweet Italian turkey sausage, ground beef, pepperoni, piquante peppers, ricotta crema, cheese + fresh herbs on fried pasta chips
One of the highlights of this dish is the real "Guy" on top. Cannibalism has never been so friggin' sweet.
Special Thanks to Grub Street New York for helpfully providing the menu to Guy's new restaurant and giving us a brief glimpse into his crispy Tex-Mexisoul.
Have a tip we should know? [email protected]