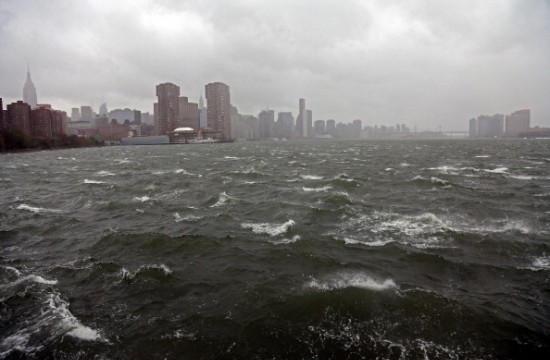 Even though people may be losing power, streets may be flooding, and markets may be closing for days, Hurricane Sandy is not an excuse to be shoddy in maintaining your social media presence, people. That's why we've compiled this list of what you should or should not be tweeting during this storm, especially if you're a chef on the Eastern seaboard.
DON'T: Pimp your show.
Good morning, get ur supplies if you in the N. E. —and watch resturant remakes so u know what to cook :) twitter.com/SandraLee/stat…

— Sandra Lee(@SandraLee) October 28, 2012
DO: Offer to shelter your staff in your MAGICAL BAKERY OF LOVE AND WARMTH.
Hey @charm_citycakes staff in Baltimore, if you're not safe where you are, please go to the bakery. That place is a fortress. Be safe, kids.

— Duff Goldman (@Duff_Goldman) October 29, 2012
DON'T: Make us all jealous of your tranquil weather and Indian summer harvest.
Making salsa with late harvest of tomatillos and tomatoes from the garden. twitter.com/chef_traci/sta…

— Traci Des Jardins (@chef_traci) October 29, 2012
DO: Inspire your followers to take control of their lives.
Seems like a good day to organize the first 1/4 of the cookbook collection twitter.com/andrecarmellin…

— Andrew Carmellini (@andrecarmellini) October 29, 2012
DON'T: Get too sad about the out-of-town couple that you had to turn away from your restaurant.
Bouley Closed After Lunch TODAY (Special couple arrived: Town Hall Wedding Celebration, NY TH closed, off to Brooklyn TH, back to Bouley!

— David Bouley (@DavidBouley) October 29, 2012
DO: Become a human panda.
Join my Yahoo! Sports Fantasy Basketball league, "Human Pandas" y.ahoo.it/kFFOZmE9 shit to do during the #frankenstorm

— Eddie Huang (@MrEddieHuang) October 29, 2012
Have a tip we should know? tips@mediaite.com