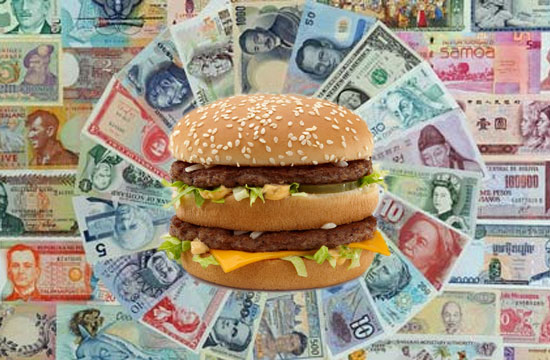 Every year, the cheeky Brits over at The Economist compile their yearly Big Mac Index, an informal exercise where they rate the world's currencies by how much it would cost to purchase a Big Mac from McDonald's in major countries. This, they reason, is a fantastically silly way to illustrate the power of exchange rates. For instance, a Big Mac in America, which costs $4.33, would cost $2.33 (75 roubles) in Russia. "So the dollar buys a lot of burger in Russia, signalling that the rouble is cheap," they explain.
This year, however, they use the Big Mac Index to illustrate that the global money market sucks. Measuring the Big Mac's value against its cost back in July 2007, when global money markets first started showing signs of trouble, the Index shows how currency in different countries has either wildly inflated, or dramatically devalued, over the past five years.
A Big Mac in Venezuela, for instance, costs a whopping $7.92 — up 83% from 2007 — "thanks to high inflation and a static currency peg with the dollar which is creating a growing trade imbalance with America."
And the value of a Royale with Cheese Big Mac in the Eurozone, still in the worst throes of the euro debt crisis, has fallen as well, dragging its former BFF and largest trade partner, the British pound, along with it.
On the plus side, Australia is doing well! Maybe that's why everyone is opening restaurants there.
To see if your favorite country's currency has survived the financial crisis, or if you're planning a trip abroad and need to calculate burger costs into your budget, or even if you're looking for a cheap currency that indicates that a country where foreign investment is welcome, head over to The Economist. Then talk about everything you learned from that article at a professor's wine and cheese party!
Have a tip we should know? tips@mediaite.com