If you're as into food as we are it's essentially a full time job (for us it actually is one). From finding the right restaurant among the overwhelming options and knowing what you're supposed to order to taking the right photo with the exact filter for your Instagram account, it's a lot of work. Luckily, it's 2016, and as with everything, 'there's an app for that'- whatever it is you need to do. We're here to make your lives easier by showing you the essential apps you need to be a fully evolved food person.
1. NoWait
I don't want to tell you about NoWait but I guess I have to now. Any restaurant that will text you when your table is ready that doesn't use NoWait is doing it wrong. The way it works is, you download the app and then put yourself on the wait list for a table at a no-reservations restaurant from anywhere. Yes, that includes your bed in your apartment way on the other side of town. And it works. I woke up a few weeks ago, put myself on the infamously long list for Clinton St. Baking Company, went back to sleep for a bit, and when my table was ready I waltzed right in and ate New York City's fluffiest pancakes without the terrifying line situation.
2. The Infatuation / Text Rex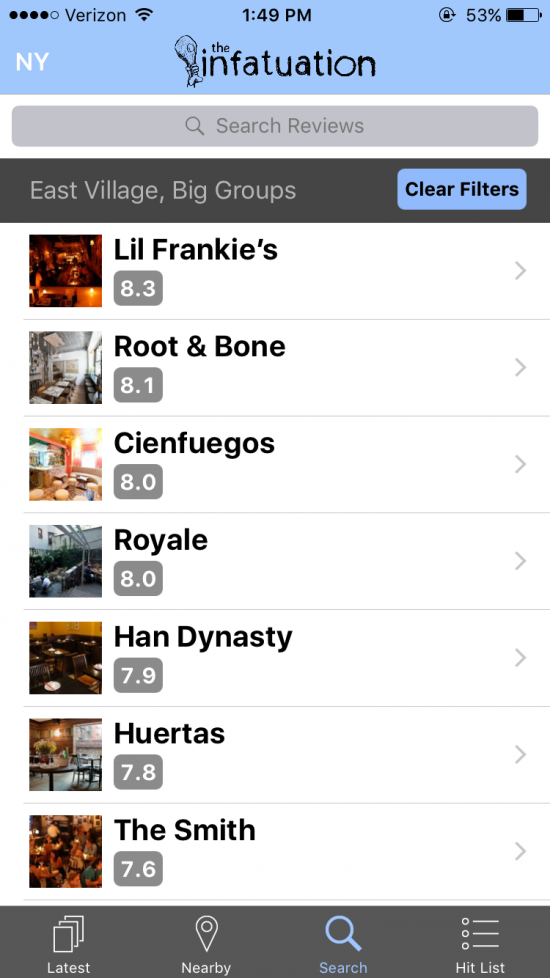 The Infatuation created the restaurant reviews that sound like if your friend was telling you where to eat. It has filters you actually want to use, like "good for groups," and "serious takeout operation," and has restaurants you actually want/can afford to eat at.
They also made Text Rex, a way for you to text a live person and get real-time restaurant recommendations. Your parents are in town and you're in SoHo, and you need a place that's pretty quiet but also one that isn't boring and one of the people you're going to dinner with is gluten free? No problem. Just text Rex.
3. Chef'sFeed
So you know what restaurant you're going to, but you want to know what you should be eating. Who better to tell you what to get at a restaurant than a bunch of professional chefs? It's how I knew that Mario Batali liked the turkey sandwich at Parm, and why I got it when I went there.
4. Foodie
The age of #foodporn is definitely upon us. We all knew there would be an app sooner than later. And thank goodness, because some of us (me) are just terrible food-tographers. Foodie has filters for everything, including "Fresh," "Chewy," "Crispy," "BBQ," and "Sweet." It may not make your terrible pictures perfect, but it will certainly help you to make them less terrible.
5. Matchbook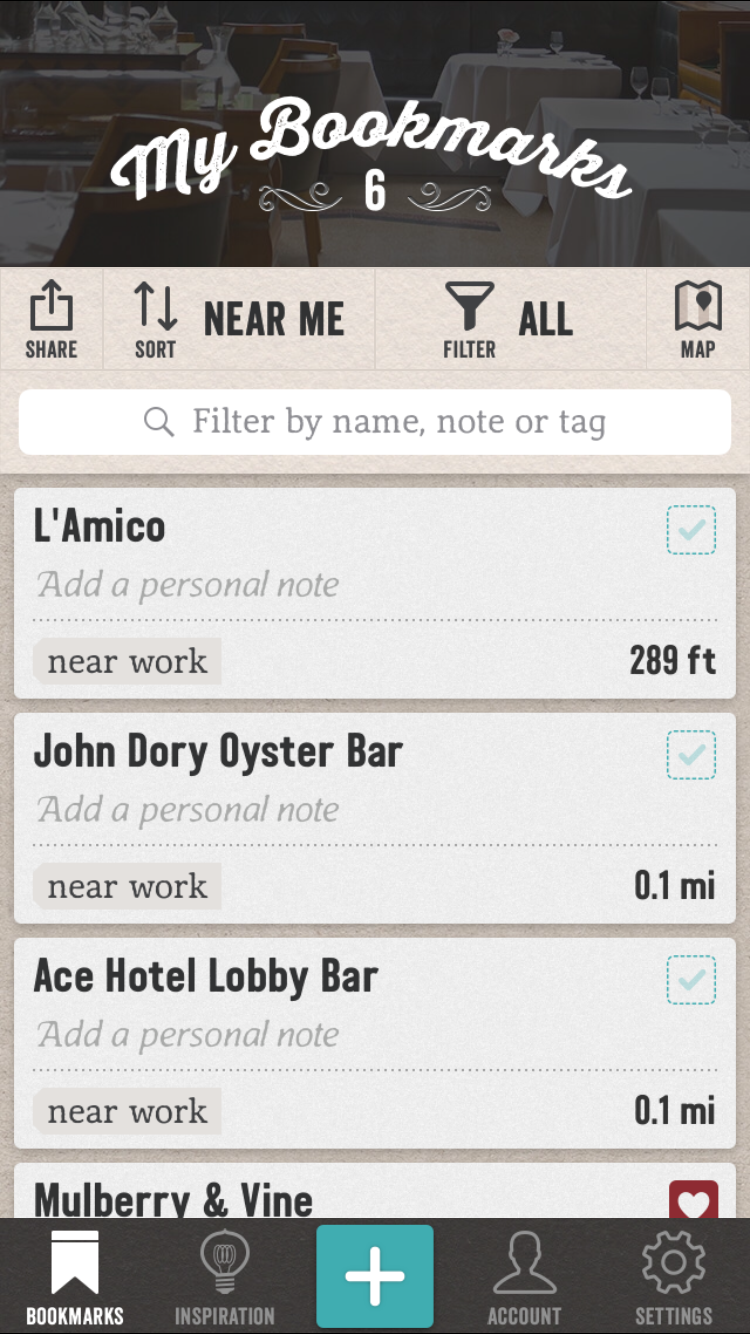 You know when you're in a neighborhood and you're looking for something to eat, and you're like "I know there's somewhere around here I wanted to go, but I can't think of what it is?" Problem solved. Using your location or a search function, you can bookmark places you've wanted to try, have been, and places you love. You can tag them by category, neighborhood, or pretty much anything you want, and you can make notes about them, like "recommended by so and so." Then, when you're looking for that place you've been wanting to go, just pull up the app. You'll remember what it is.
6. Next Glass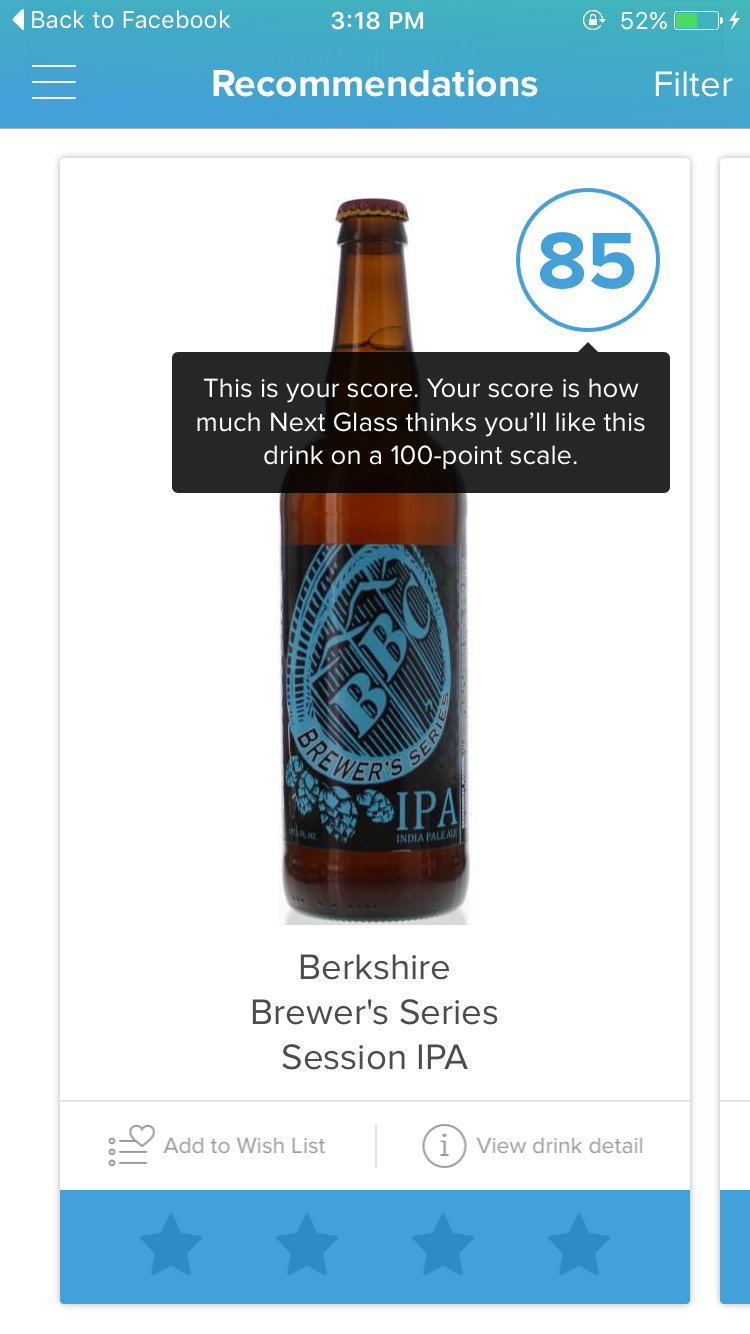 Next Glass makes recommendations for you for drinks based on what you like and what you don't like. You can rank different wines and beers, and the more drinks you rank, the better your profile gets, and the better the recommendations get. The app will also tell you, based on your profile, how confident it is you'll like the drink. If you, like most people, totally don't know what you're talking about when it comes to wine, you need to have this app on your phone.
7. Opentable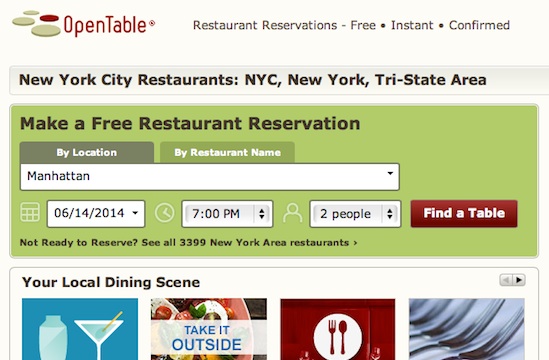 You know the drill here. You can make reservations at a ton of different restaurants online or through an app. Most of the time, a reservation corresponds with points (usually 100). Every 100 points is worth $1, and you can get gift cards to open table restaurants in different increments. It's literally free money.
Now, the biggest challenge of them all: freeing up enough storage space on your iPhone for all these apps.
Have a tip we should know? tips@mediaite.com