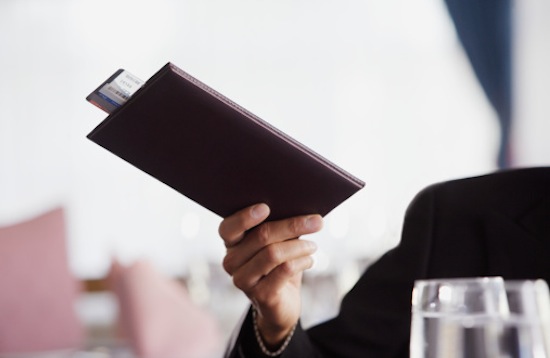 Every week the Grub Street Diet breaks down local celebrities' dining habits like a small intestine tell-all, and if you've ever wondered how fat a wallet it takes to fill Andrew Knowlton's belly with Prime Meats, whiskey and Cheetos, or hydrate Stephanie LaCava at Sant Ambroeus, The Braiser's doing the math to give you the skinny.
When you're a cocktail legend like Julie Reiner, surely you don't pay for your drinks ever, right? Julie Reiner's Grub Street Diet this week includes lots of Clover Club brunches, entertaining at home (lobster and short ribs for all!), and cereal for a whopping total of $436.63.
Friday: $18.81
Special K cereal ($4.99), 1 percent milk ($3.99), grapefruit ($1.29) for breakfast; cottage cheese ($3.79) snack; turkey chili ($4.75) from Fresh & Co.; salmon with vegetable salad for dinner at the Living Room in the Park Hyatt ($0).
Saturday: $274.45
Coffee and croissant at Du Jour Bakery ($3.75); turkey, arugula, red onion, mayo and honey mustard sandwich on a demi-baguette for lunch ($20.54 for ingredients); St. Germain and Aperol for cocktails ($57.98); smuggled rum from London ($0!); Kalbi Korean short ribs, prawns, broccoli, soba noodles, Asian salad, teriyaki sauce, ginger-scallion sauce, ($152.18 for ingredients) and rosé wine (est. $40) for family dinner.
Sunday: $149.28
Kind bar and coffee for breakfast (est. $5); deviled eggs ($8), oysters "rock your face off" $13), shrimp and grits (est. $14), and the Machinist cocktail ($11) for brunch at Clover Club; half-bottle of Moet rosé ($35.95); lobster, corn on the cob, and sourdough bread ($38.33), farmers market heirloom tomatoes (est. $4), and pinot blanc (est. $20) for dinner.
Monday: $65.68
Coffee and Fage strawberry yogurt ($1.69) with grape nuts ($4.99) for breakfast; everything pumpernickel bagel with cucumber-dill cream cheese ($3.50) and Nova Lox ($9.50) at Begyl; crab and pork soup dumplings, black bass, and pork-fried rice (est. $40) at Joe's Shanghai for dinner; mint-chip gelato at L'Albero Dei Gelati (est. $6) for dessert.
Tuesday: $76
Special K and coffee for breakfast; coffee from bakery (est. $2); Caesar salad and cocktail sampling at the Living Room at the Park Hyatt for lunch (est. $0); French onion soup, ($15) sweet and spicy catfish ($29), glass of Tempranillo (est. $15), and martini (est. $15) at Blue Ribbon Brooklyn.
Wednesday: $1.69
Coffee and a Fage yogurt ($1.69) for breakfast; future dinner at Nobu (est. $1,000,000.)*
*We're kidding. Ish.
Costs, before tax, tip, and delivery, are based on Menupages.com, Seamless.com, and Freshdirect.com, and we hesitate to guess what gets comped and expensed.
RELATED: The Grub Street Diet Skinny: How Much Did Mark McNairy Spend Last Week?
The Grub Street Diet Skinny: How Much Did Jane Pratt Spend Last Week?
Have a tip we should know? tips@mediaite.com