Here's Why Ranking On D.C.'s 50 Most Beautiful People List Is An Insult To Sam Kass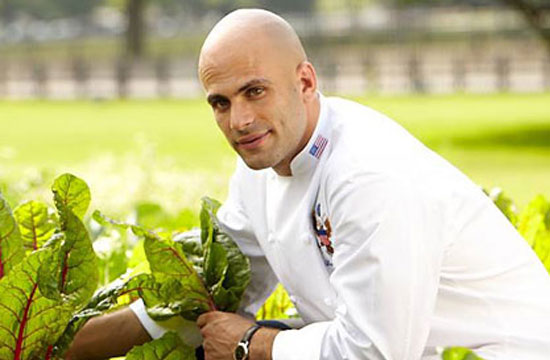 White House personal chef and Let's Move! director Sam Kass is, by all accounts, a beautiful human being. His physical features go far beyond aesthetically pleasing. His soul, too, is pure — he gardens with children and teaches them how to eat healthy, which is the ultimate lady magnet (and dude magnet, as it were). So you'd think we'd celebrate the fact that he was named to a D.C. newspaper's annual "50 Most Beautiful People" list, right?
Haha, ahh. Ha. We're so sorry. But no.
Being placed on this list (at a respectable number three spot, we might add) is the exact opposite of being honored. We'll have to expose the secret, incestuous inner workings of Washington, D.C. to really explain how this is an insult. Hold on to your lunches, especially if you just ate them.
The Hill is a hyper-specialized paper covering political news D.C. Ten years ago, they began publishing an annual list of the 50 most attractive people working on Capitol Hill, drawing upon nominees submitted anonymously and bestowing the Hotness title upon Congressmen, journalists, aides, staffers, lobbyists — anyone whose job description you might recognize in an episode of The West Wing — and running a highly clickable slideshow full of these Hot People glamour shots.
It's currently one of The Hill's most popular features, which could be a sad indicator of what people on Capitol Hill prioritize (instead of things like, funding the Farm Bill, resolving the debt crisis, lowering student loan interest rates, etc.) — but of course we have no proof that anyone on the Hill actually reads The Hill. Even worse, while it's impossible to subjectively rank hotness, The Hill's 50 Most Beautiful List is a confirmation of that horrible old adage: Washington is the Hollywood for ugly people — or, as a reader of gossip site Fishbowl DC put it, "It's become 50 Most Beautiful People After You've Had A Bottle of Whiskey."
(Exhibit A: Hottie #20.)
By precedent, ten of The Most Beautiful spots are reserved for Congressmen and Famouses, meaning that the list has honored Speaker John Boehner, Rep. Nancy Pelosi, and not you, random Capitol Hill staffer whose ambition is slowly chipping away at your patriotic ideals.
(Exhibit B: Hottie #14, aka "Dark-Haired Rapunzel," whose profile is mostly devoted to her haircare.)
This year, they opened up nominations to executive branch employees, meaning that Kass was finally eligible for the list. He ended up taking third place, behind Arizona Congressman Jeff Flake and a HHS special aide named Kirby Bumpus. To be fair, Kirby Bumpus is quite pretty, but we reiterate that this list is destroying America.
(Exhibit C: Rep. Frederica Wilson's gained national prominence because of her outspoken defense of Trayvon Martin. But let's talk about her hats.)
Oh, and the best part about a Hotties list written by policy beat reporters: their clumsy attempts to write like gossip columnists. Like, really: Sam Kass, "Kitchen Cutie"? If you're going to fall into the depths of inanity, you commit to writing and peddling trash. Except, of course, if you're a Washington, D.C. reporter, which means you have to maintain a credible image while stoking the vanity of the people who made it onto your high school yearbook Hotties List, Class of 2013.
Basically, this list serves as a microcosm of everything that is wrong in Washington. We're sorry you had to be placed in the same category as this guy, Sam Kass — you're actually hot enough to make it onto a legitimate Most Beautiful list. If we learned anything in J-school, it's that a publication's reputation matters, and People Magazine certainly has a reputation for their thorough mastery and recognition of hotness.
[The Hill]
Have a tip we should know? tips@mediaite.com