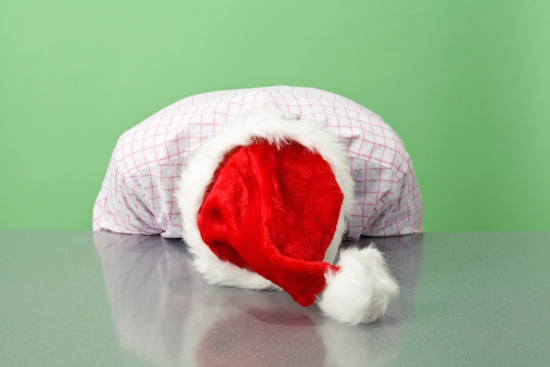 So you didn't quite prep your turkey in time for Thanksgiving dinner, and you're behind on your Christmas gift shopping. Congratulations, you're officially screwed.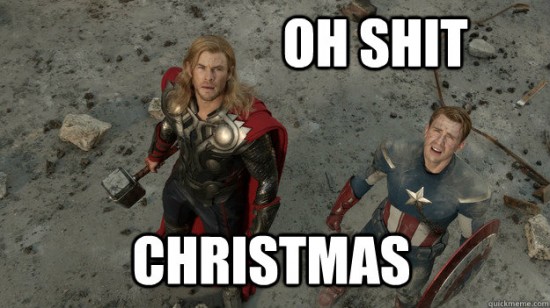 Don't freak the f*ck out just yet — not all hope is lost. To win Christmas while being as lazy as humanly possible, give us your credit card (being lazy ain't cheap, sorry to break it to you), four hours of your life, and more booze please. We're here to help with six easy steps.
Step One: Amazon
(For real, what did we do before Amazon?)
What to buy (all available on Amazon Prime!): This wine carafe (for your super sophisticated sister / mother-in-law / the only people you could ever trust to own a wine carafe without breaking it)
This coffee press (for your uber caffeinated roommate / bestie who disdains Starbucks)
These whiskey glasses (for your dad / brother who can't end the workweek without a Scotch)
Any one of these cookbooks (from our gift guide!) (for your mom / best friend/ foodie who can't get out of the kitchen)
Send that shit directly to your loved ones or wherever you'll be spending Christmas, and get the wrapping option (and blame it on Amazon when it looks like sh*t under the Christmas tree or Hanukkah menorah).
Step Two: That fancy market you never ever go to because it's barely within your budget.
What to buy: Truffle salt or truffle oil (1-percenter toppings)
Cocktail bitters (try to get just an orange or Angostura bitters)
The cheapest chocolate there (because you know that chocolate will be better than any other chocolate you'll find elsewhere)
Coconut oil (We know, we know — it has a purpose, we swear)
Dried rosemary
Step Three: Your normal grocery store.
What to buy: Popcorn (maybe not the gross microwave kind)
Butter (get like Paula Deen on that dairy case)
Brown paper lunch bags
Hot chocolate mix packets (try to go a step above the Swiss Miss hot chocolate mix, will ya? You're lazy, but not cheap.)
Cheap-o holiday candy
Step Four: Liquor Store.
What to buy: Pocket shottttttts (get as many as you do friends — better yet, buy out the whole damn case and make new friends) (Oh, and try to get maybe a couple that are nicer than Fireball, alright?)
One bottle of cheap-ish prosecco (for the boss man whom you want to impress and not totally scrooge out on)
Step Five: Dollar store.
What to buy: Coffee mugs (don't get anything cutesy or weird, now is not the time. Remember, you want people to think you actually spent time picking out something nice for them, not that you went trolling your neighborhood like an animal grabbing at anything with a snowman on it.)
Step Six: Assemble your goodies.
Package 1: Pocket shot of whiskey + cocktail bitters = present for cocktail snob friends
Package 2: Mug + hot chocolate packet + cheap-o holiday candy = present for Secret Santa/ coworkers / friends undeserving of pocket shots.
Package 3: Bottle of Prosecco (wrapped, you animal!) + chocolate from fancy market = present for the boss man.
Package 4: Pocket shots + pocket shots = present for the ones you really love.
(Leftover chocolates, candy, pocket shots = stocking stuffers / presents for yourself for actually getting your sh*t together before Christmas Eve.)
Package 4: Truffle rosemary popcorn, made from this recipe, in brown paper bags = present for those you actually love / people you want to impress with just how un-lazy you were this holiday season. ('Tis the season to one-up everyone in your life!) Leftover popcorn = your bounty. Pop that sh*t open, turn on Love Actually and pat yourself on the back.
And that's it. Big, thoughtful presents with a click of a button, cheap-o presents done in one afternoon — you've officially won Christmas.
If you don't accomplish all of this, well, just hide out and you'll be just fine.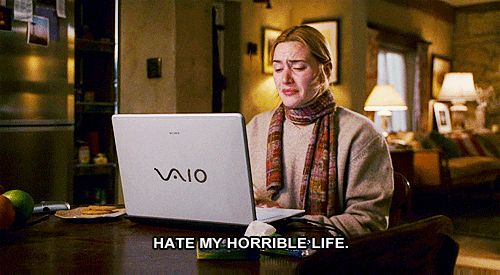 Or just imitate Grumpy Cat and just blow that sh*t up.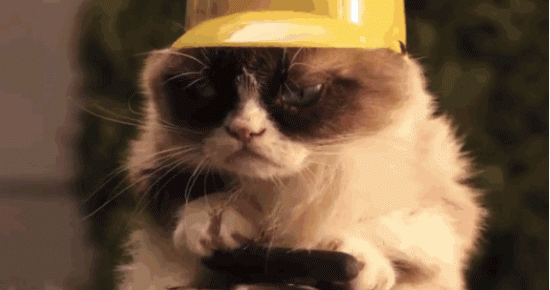 Have a tip we should know? tips@mediaite.com