The Newest Leading Lady in New York City's Food Scene, Emma Bengtsson, Almost Didn't Take The Job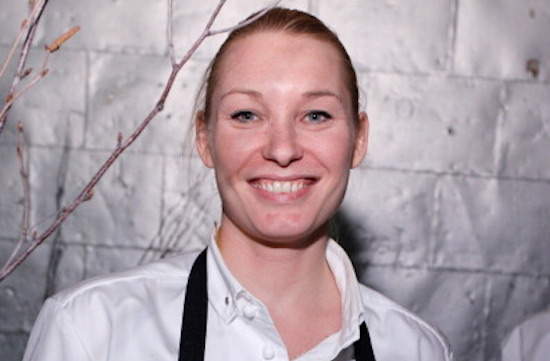 It's been a bode for female chefs this month, after Acquavit's Emma Bengtsson landed a second Michelin star for the restaurant. She's only the second female executive chef to have two Michelin stars under her belt (the first being Dominique Crenn in San Francisco). Turns out, Bengtsson almost didn't take the job in the first place. With the wave of her success, it's safe to say now: no more excuses, lady chefs.
Bengtsson, the former pastry chef at Acquavit, told the New York Post that she initially said no to the executive chef position when it opened up last spring. The owner of Acquavit, Hakan Swahn, had to convince her to take it. "I didn't feel I had what it would take to make it," she said to the Post. "I'm very hard on myself."
Bengtsson elaborated a bit more on her fears, plus traditional gender roles, earlier this month to Grubstreet:
.. I'm the kind of person who doesn't go into something if I'm not 100 percent sure that I can manage it. I was a little bit scared in the beginning if I was up to the test. I'm not the one who goes and grabs. I'm more in the background, working hard. And I had a great opportunity handed to me, and it was a bit scary, but it looks like it's working out fine.

… It has a lot to do with gender. It's starting to change, but overall we're coming from a history where men were allowed to do more things, while women were held back. It's something that's very slowly changing. And I think it has to do with our history and the way women are taught to think.
If that doesn't say it all, we don't know what does. Bengtsson also said to a Swedish publication that she hopes her Michelin stars "inspires many girls in my profession to aim high." Hear, hear.
[New York Post, Grubstreet, SVD]
RELATED: The 'Michelin Man' is Actually a Michelin Woman, and Here's the Michelin Star Count for Our Favorite Restaurants (Updated)
Food & Wine to Publish All-Female Issue This January, a Huge Coup for Women Everywhere
In Awesome Lady Chef News, 3 Michelin-Starred Chef to Open 2 New Restaurants in New York City
Have a tip we should know? tips@mediaite.com