The Paula Deen Online Network Is About to Launch, Here's What It Will Look Like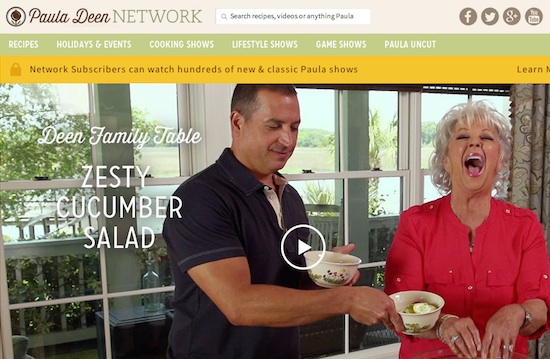 Oh wait, it will look nearly identical to how her shows felt back when she was at the Food Network — because she bought her entire library of shows from the Food Network.
The Paula Deen Network launches September 24, with promised recipes, shows, and "a whole lot of laughter, love and family," says the trailer to the new website. But perhaps what's even more interesting is that Paula Deen and the network purchased all 440 of the episodes and videos she starred in on the Food Network, including the unaired footage from the 13th season that never ran, because of that whole racist thing. (After all, Deen et al. raised about $100 million of private equity to fund the network.) The financial details haven't been disclosed as to how much Deen paid for the entire library of her work.
Among the other shows based on 5-ingredient meals, her hometown of Savannah, and a healthy cooking show, the Wall Street Journal shares one more nugget of a show that we guess we'll have to turn in to. The scoop, plus some weird passive aggressive-type language from Deen:
Ms. Deen's network plans next year to broadcast a self-produced documentary about her tumultuous life since 2012, when she announced she had developed Type-2 Diabetes. She was widely criticized for promoting her brand of high-fat, sugary Southern cuisine while also endorsing a Novo Nordisk diabetes drug, and her career sputtered.

"We feel like America needs to know the true story, and everything that happened," Ms. Deen said in a recent phone interview. "I'm bound by the courts, so I can only say so much. But there's nothing to stop others from talking about it."

Ms. Deen said the new network will give her a degree of creative and financial control that she has never had and free her from bureaucracy.

"That's the beauty of what we're doing now. We have total and complete control," she said. "If we disagree on something, we can discuss it right then and there. We don't have to put it before a group in a tall building somewhere. We can discuss it right there. It's as real as it can get."
That's really owning up to the past now, isn't it?
Deen is doing anything to rally new potential subscribers her fans, including tours of the South and an appearance on the Today show on Tuesday. Can she top the "I is what i is?" speech from her last nationally televised TV appearance? We will be watching.
[New York Daily News, Wall Street Journal, Paula Deen Network, Orlando Sentinel]
RELATED: Jamie Deen Reportedly Dropped by Food Network; He's Gonna Go Work for His Mom Anyway
Bobby Deen Promises Paula's New Online Network Will Be 'Less Edited,' 'Freer'
"WATCH: Paula Deen's Tennessee Retail Store Opens To Hoards of (White) Fans
Have a tip we should know? tips@mediaite.com