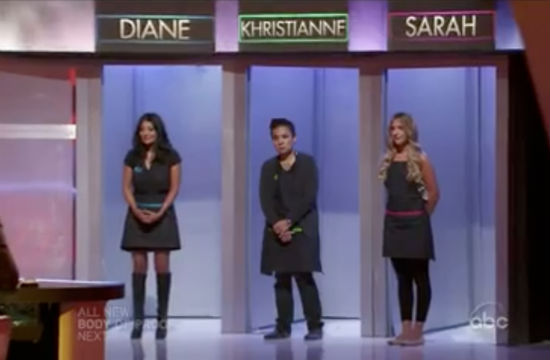 After a Jose Andres-judged Team Taste Test, which of the four finalists took the title of The Taste's inaugural champion, winning $100,000 and a brand new Ford?
…Khristianne! Ahem. Called it.
But let's back up for a minute, shall we? Specifically, let's back up the the most satisfying moment of last night's episode, which wasn't Khristianne's win, but Gregg's swift dismissal, by Jose Andres of all people. The loser of the Team Taste Challenge had to pack their spoons and go immediately, leaving three cooks behind to duke it out in the finale. And who lost the tapas-themed challenge? Why none other than fancy-pants Chef Gregg, who's a real chef, in a real restaurant, and who's read every food book ever. So not only was the finale all-ladies (holla!), but they also had a home cook and a personal chef still in play. Does this prove all sorts of things about the cooking skills of women in the context of a blind taste test? Probably. We're not scientists.
Check out Gregg's salty exit below. He didn't even make eye contact with Jose when they shook hands. Bitter Betty, much?
And then, of course, there was Khristianne's blissful win, which she seemed genuinely surprised by, but we saw coming from a mile away. In case you didn't know, she's a professional reality TV chef who's been featured on Chef Wanted, Millionaire Matchmaker, and The Real L Word. Still, we're assuming this is her first $100K paycheck.
In the words of Anthony Bourdain, "It is a good and noble thing to cook well. Congratulations, Khristianne. We salute you."
In the words of Ludo Lefebvre, "And you know, Malarkey…whatever."
Check out the winning moment below. We're sure Charlie Sheen is proud.
Have a tip we should know? tips@mediaite.com