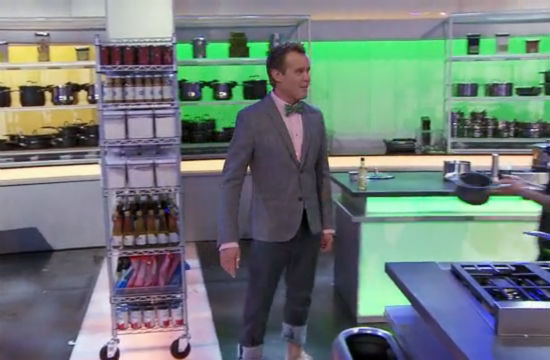 So maybe we called it incorrectly when we thought that Ludo LeFebvre wouldn't return to The Taste, because despite his current focus on Trois Mec, he's coming back as Sexy Smouldering Judge for Season Two. Welcome back to the Thunderdome, dear Ludo. We like keeping you around.
But Brian Malarkey, the fanciest rooster in town, is not coming back — and from his comments to Eater San Diego, it didn't seem like a mutual decision between him and ABC.
"I am of course disappointed to part ways and not return for Season 2," he said, "but onward and upward! I'm looking forward to pursuing future television projects and continuing to grow our restaurant group, which has had its most successful year to date."
Yeah, we called it. Allow us three seconds to congratulate ourselves smugly.
Now let's forget about Malarkey and his botulism-ridden face, who's gonna replace him? Could it be writer Eddie Lin, who confirmed via (later deleted) tweet that he was judging the auditions? We would like to lobby for Eddie Huang to play Wild Card Judge on national television, because 1) he gets along well with Anthony Bourdain, 2) watching him go back-and-forth with Ludo would be entertaining, and 3) we don't know what it is, and maybe we're messed in the head, but we believe he'd have a bizarrely attractive sexual chemistry with Nigella Lawson. 
Okay, we really just want to see what would happen if Eddie and Nigella were drinking wine on a couch together.
RELATED:
Bourdain And Lawson To Return For Season Two Of The Taste
Will Bourdain, Lawson, And Lefebvre Return For The Taste Season Two?
WATCH: And The Winner Of The Taste's All-Female Finale Is…
Have a tip we should know? tips@mediaite.com