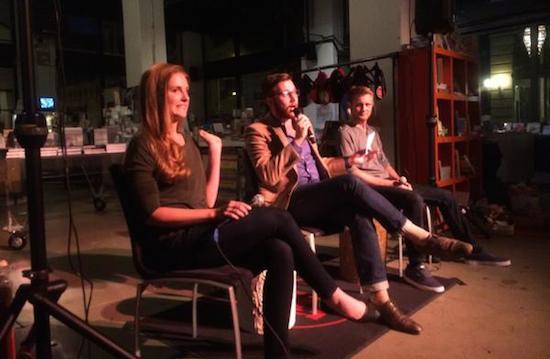 Alternate headline: People Continue to Defend Thug Kitchen and No One's Having It.
Despite Thug Kitchen's not giving a f*ck about anything, other people are certain giving a f*ck about the very complicated issues of race behind it. And it's not just the white millennial founders that are feeling the heat — it's the bookstores that are carrying the newly released cookbook.
One such bookstore, Powerhouse Arena in Brooklyn, had to defend itself against an event with founders Michelle Davis and Matt Holloway. People planned to protest the event, but the Powerhouse CEO got caught up by giving one protestor a very weaksauce defense for hosting Thug Kitchen. Mainly, that the word "thug" isn't all that bad, and hey — freedom of speech!
Presenting… @thugkitchen!! With @mattduckor at the helm! pic.twitter.com/L7OYGC2YoK

— The POWERHOUSE Arena (@POWERHOUSEArena) October 6, 2014
From an email, obtained by Gawker:
I don't share your opinion that the word "thug" (itself a variation of thuggee, groups of assassins that roamed India for some 600 years), is a code word for the N word. Thuggish behavior is fairly accepted as boorish, bullying, and domineering in character, regardless of ethnicity, and the tone of the book, including the extensive use of swear words, is symptomatic of that behavior; adopting that demeanor in the form and content of a cookbook—a cultural product most often associated with affluent society, perhaps in some gross generalizations some components of white culture, is itself a form of parody—not of the cultural origins of the contemporary use of the language and of the demeanor, but rather the extrapolation from their origins and application to a totally different worldview. This is done by using excessive amounts of vulgarity and bullying verbal stances in the traditionally staid setting of cooking and cuisine publishing. …

If you want to call attention to a defect or an imagined slight, be more clever than the reason for your rising up. And by doing that you must be very specific, and cite your strongest case for not supporting the book, rather than trying convince stores to not stock it boycott establishments that support free speech and intellectual curiosity. And you won't do it by trying to tie in most of society's ills; asserting a clever book of parody of being a ringing endorsement of racism and police brutality is not going to convince the people you need to your side.
That's some nice legalese for "well you're wrong but HEY WE'RE STILL GONNA LET YOU TALK AND STATE YOUR VERY WRONG VIEWPOINT, K?"
Grubstreet shares that more bookstores are similarly having to defend themselves for carrying the cookbook, and now Davis and Holloway are canceling events in San Francisco thanks to more threats of protest. Said the couple in a statement, according to SF Weekly:
We love you and we think you're amazing (Michelle's from there!). We were looking forward to meeting all of you and having a real fucking conversation. But there are some who are looking to disrupt the event and create problems for these great local, small businesses—who were kind enough to partner with us on the launch—so we're holding off on our visit for now. Until we get our asses back up there, we'll see you guys at our other stops!
And yeah, everyone's kind of over it.
in a room with people that think Thug Kitchen is great.
i'm never eating food again.

— chai goth (BOO) (@Abid_ism) October 7, 2014
If you're surprised the thug kitchen ppl are white, I should probably tell you that Bill Clinton wasn't really the first black president

— Amy McDaniel (@amysmcd) September 30, 2014
And if you're wondering if the cookbook is actually usable for, you know, cooking, Refinery29 shares that it's not. The word "f*ck" appears 122 times in the book, and the word "thug" appears 233 times; meanwhile, the words "blend," "chop," "marinate," and "whisk" appear less than 50 times each.
[Gawker, Grubstreet, SF Weekly, Refinery29]
RELATED: Thug Kitchen Founders Revealed to Be White (Everyone Act Surprised Now)
"Is Auntie Fee the (NSFW) Food Star We've Been Waiting For?
Thug Kitchen Will Now Be A F***ing Hardbound Cookbook
Image via Powerhouse Arena
Have a tip we should know? tips@mediaite.com