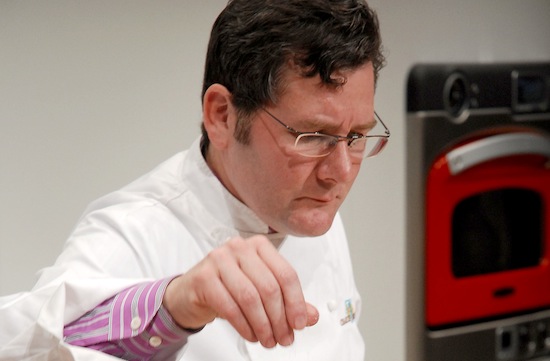 August 17th is not a day that goes unnoticed in Chicago, and for the community of chefs there. It's the day that Charlie Trotter opened his epononymous restaurant 27 years ago, forever changing the landscape of dining across America. This weekend, chefs from Trotter's city, Chicago, to Seattle, to New York, even to Colombia and New Zealand, will recreate dishes from Trotters' cookbooks to raise funds for the nonprofit founded after Trotter's death in November, the Trotter Project, on "Charlie Trotter Day."
It's a small token of remembrance and appreciation for the Chicago chefs we spoke to, for the legend. "When you think of Charlie Trotter, you think of the first tasting menu, the first wine progression, the first vegetable-centric experience, the world's first raw experience, and all these other things in between," said chef Homaro Cantu, of Moto, over the phone. "It's a laundry list of innovation."
It makes sense to base an event off of Trotter's cookbooks — "so iconic," Cantu said. "Cookbooks before, The Joy of Cooking, were so text-based, not a lot of photography. Charlie set the gold standard in shooting — it was the world's first food porn.
"He took food and brought it to a level that was intellectual, mentally stimulating, and healthier foods that were equally stimulating. No one had done that before."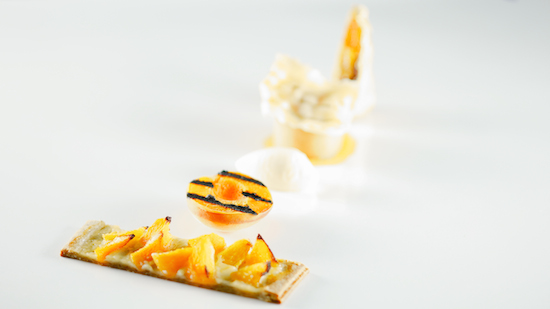 One of Charlie's Trotter dishes, "A Study in Apricots," recreated by the Charlie Trotter Project. The goal is to recreate all five cookbooks, totaling 400 recipes. Photo credit: Azeez Yusuf
Chefs sought Trotter out, begging to work in his kitchen. "I was looking for something a little more cutting-edge, a little more interesting, aligned with what I was looking for and feeling about cuisine in America," said Matthias Merges, chef at Yusho. "Not many people were doing something very American. Everything was derived from the European model [in the late '80's], or the traditional Asian and Chinese restaurants. Very few people were doing something new. So Charlie Trotter was on the radar for me, for sure."
Merges realized the only way he could break into Trotter's kitchen was do just do it. He went to Trotter's restaurant, knocked on the back door, and asid he would work for free until Trotter thought he was worthy of being paid. Fortunately, said Merges, that didn't take too long.
Cantu first saw him at a demonstration at UCLA, where Trotter was presenting with Emeril Lagasse. It was maybe 1997 or 1998, in the prime of Lagasse's career; after the demonstration, the crowd to get books signed by Lagasse was nearing 300, says Cantu. He couldn't believe that Trotter had no groupies huddled around him. Cantu brought a book to be signed by Trotter, where he and a friend asked the chef about other purple foods other than purple carrots. ("He rattled off purple corn from Peru, beers, blueberry juice, purple hominy – he's a file cabinet when it comes to food," Cantu recalled.) Just a year or two later in February 1999, Cantu went back to Trotter's restaurant for a tryout. "You're the guy that asked about purple carrots," Trotter said to Cantu. "What are you doing here?" "I'm here to do whatever it takes to be our sous chef." "OK then, get to work."
During the height of Trotter's career, dozens of people were applying every week to work with him, says Cantu. And no one took advantage of that. Cantu recalled taking home peas from work and shelling them in front of the TV, because he didn't have time to do it at his raw station. "We went at it with every cylinder that we had," said Merges. "It was focused on excellence at all times."
For such a commitment to excellence, Trotter rewarded those who worked with him with a culinary, globe-trotting adventure. Bill Kim, chef at BellyQ and Urbanbelly, recalled his chance of a lifetime with Trotter at the mere age of 26 – a trip to Asia. "Back then, I only had one sports coat," said Kim. "He said to me, 'You know what? You need a couple sports jackets, because we're going to get lunch and dinner at two, three-starred Michelin places. I was blown away." But while Trotter explored new parts of the world with a team of chefs he was close to, he also brought the world's cuisine back to Chicago – and not just the chefs he worked with. "He would bring Australia to Chicago," Kim recalled. "Lot of us chefs don't have the time or money to Australia, so he would invite 30 chefs in Chicago on a Saturday or Friday afternoon and treat them to an 8-course tasting menu [of Australian food], so everyone could get together in one place." He invited chefs and cookbook authors from around the world to meet Chicago's burgeoning chefs, to cook dinners for them, to sella and sign books for them. Kim remembered meeting Nina Simonds and Marcus Samuelsson back in those days. "So many people came through the doors those days, because he was wanting to share."
More than that, Kim says, Trotter shared his gifts with his community right there in Chicago. On weekdays, he would bus in high school students from certain neighborhoods and treat them to the menu that would be served to regular guests later that night. Working with Trotter taught Kim that being a chef was more than what happened in the kitchen, he said. "Being a good citizien to the state of Illinois, an ambassador to this food, it all led me to do the things I do currently."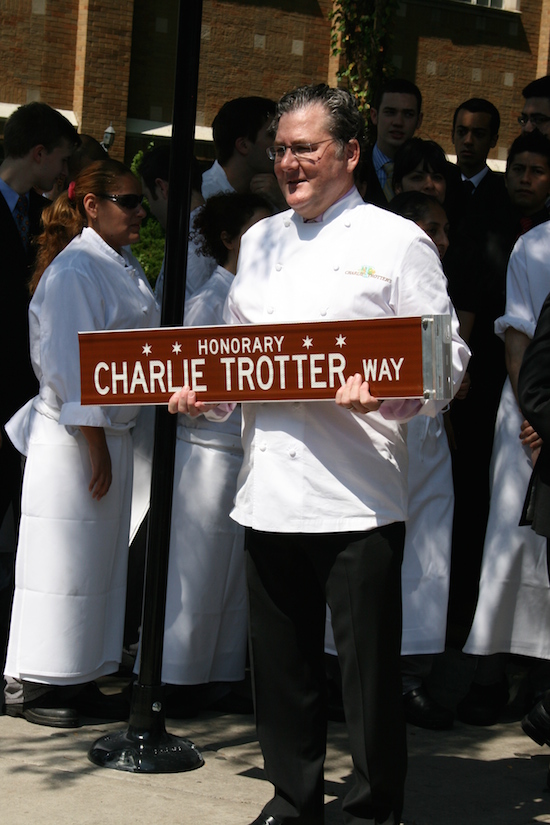 However Trotter defined the community, though, Trotter also redefined American cuisine and dining. When Trotter wanted to do a raw cookbook, he assigned Cantu to it. "'You're going to make me lunch every day, and a raw dish every day,'" Cantu remembered Trotter saying to him. "So I made him salads the first couple of days, until someone else said, 'You're not going to keep giving him salads, are you?'" Cantu eventually made him a morel mushroom puree with a beet foam. The experience taught him that food should always be delicious first, and a byproduct of health second. "It took me on the path that I am on today, that healthy food can be great," he said. Among the life lessons Kim said he learned from Trotter, he said, it was to "never forget that chefs should be articulate – they should be able to explain themselves and the dish they're preparing. Not to just be a mute and do what they're told."
"There's many things that Charlie and the restaurant put into place that no one had every really done before," said Merges. "The tasting menus, the kitchen tables, taking food and wine pairings seriously – in the '90s, those were things that were never heard of before. Now, we can see how those things have transcended in restaurants across America, without a doubt.
"Before people were focused only on the food, that cuisine was the only thing to worry about. Our attitude is that the food is important, but not the most important. Service is more important than food when it comes down to it; ambiance, beverage program, so many details need to be addressed. …
"Seeing some of the great cooks [who worked for Trotter] that are now great chefs, to be in and a part of that team during the years I was there — It was like being at the Super Bowl every single day for 14 years – when you get that in your blood, it's a very special experience. We had to go out and win [every day], for sure – it was the biggest game of our life."
Kim's favorite memory of Trotter was when he came to Moto six months before he passed away to celebrate his wife's birthday. "He had never come to any of my restaurants, never," he said. "That really made me very proud." Trotter's family will be coming into Moto this weekend to celebrate Trotter Day, Kim said. He said Trotter's mom, Donna Lee, would always bring candy for the chefs who worked for her son. "We were like her kids," he said. "I'm honored to be cooking for them."
Maybe that's why the culinary community around the globe still feels the death of Trotter very deeply, nine months after his death. "Even after you left, it never ever felt like you left," Kim said. "When I was working in New York I'd get a call: 'I'll be IN New York for an event, can you help us out?' Or 'I have an event in Singapore, you want to come?' I mean, who does that?
"Once you work for him, you ou become family to him. He knew who you were."
More information on restaurants participating in Charlie Trotter Day can be found on Facebook.
RELATED: "Rochelle Remembers Charlie Trotter's Final 'I Love You'
Chefs Eulogize Charlie Trotter on Twitter
Have a tip we should know? tips@mediaite.com