Tim Love Gets Dreaded Magazine Profile Asking if He's Too Much of A Celebrity Chef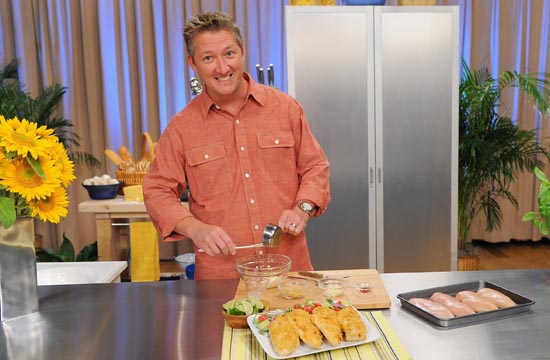 On the eve of his new show Restaurant Takeover, which premieres tomorrow night on CNBC, Texas chef Tim Love has reached an important but dreaded milestone in his celebrity chef career: the article — a long one from Fort Worth Weekly, published on July 2nd — asking whether he's too much of a celebrity chef instead of a celebrity chef, if you know what we mean.
Citing multiple sources throughout the Fort Worth restaurant community, the article looks at whether fame is getting to Love's head and taking him out of his hometown. Despite his television fame, two of his own Texas ventures (catering deals with the Texas Christian University football team and the Crowne Plaza Invitational at Colonial golf tournament) are considered failures or on the verge of failing, and, according to some anonymous chefs, Love has personality issues: "Even in a room full of chefs, who all have egos, even they say, 'My God, get a load of this guy,' whenever Tim comes in the room."
It's long, and it's rough. Just look at this segment examining the failures of his catering deal with TCU:
Love's departure from TCU occurred as he was preparing for the Colonial gig. The subsequent complaints about service and food quality at the golf tournament led to a rare media spanking. The Star-Telegram has trumpeted Love's endeavors while mostly ignoring his shortcomings, but sportswriter Mac Engel pulled no punches in a May 27 article. He characterized Love's Colonial debut as a "giant dud," described the food as "wildly average," and said "standing in line for 30 minutes to buy one beer is bad business; standing in line for 45 minutes for some chips with cheese is horrible business."

Even more damning were the comments left at the bottom of the story. Readers blasted his on-site advertising: "From the looks of all Tim Love's marketing material around the tournament one would have thought he was the main sponsor rather than Crowne Plaza," one wrote.. "This guy has an ego bigger than Texas without the food to back it up."

Others complained that he and his staff were rude to volunteers. And charities and high school booster clubs that used to get 9 percent of gross sales at their vendor booths were told they would be getting about half that amount under Love's reign. Volunteers rely on those proceeds to help fund their groups. Some balked.
And now you are a man, Tim Love. Mazel tov.
[Fort Worth Weekly h/t Eater]
Have a tip we should know? tips@mediaite.com