Time Inc. Is Trying To Make Up For 'Gods of Food' By Running a 25 Most Powerful Women Crossover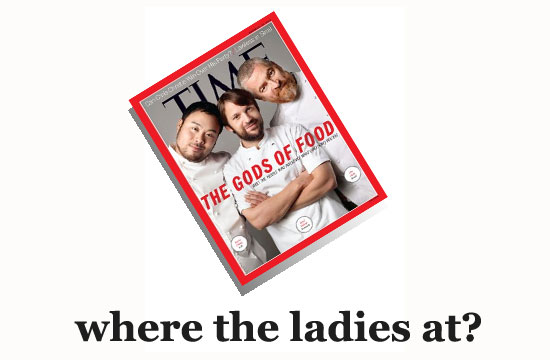 Time Inc., who owns both Food & Wine Magazine and Fortune, is trying to make up for the cacophonous disaster that was the TIME Magazine, all-dudes-all-day "Gods of Food" issue by pairing up the aforementioned mags for a crossover post honoring women in food.
Twenty-five women across all facets of the culinary industry will land on the "Most Powerful Women: The Food & Drink Innovators" list to run in both Food & Wine and Fortune in forthcoming fall issues. Said Food & Wine Editor-in-Chief Dana Cowin of the TIME piece, and how it will affect the list:
"That sparked a conversation in the food world, but also in the world at large. Why were women missing from the picture? Part of the answer is that there are a lot of women in food, but they are not all chefs. There are also female politicians who work on hunger issues, women who own vineyards, women who are investing in food startups."
Also because men have a tendency towards confrontational, media-whoring shit-stirring, while women just focus on like, cooking? Because dudebro chefs like to run their mouths and be controversial, which makes for a better blog post than women ignoring constant, gender-based harassment at work from the very beginning of their careers until they have the experience and agency to land themselves in a kitchen under the tutelage of a head chef that doesn't tolerate treating women like garbage? Because a lot of women burn out having to work twice as hard in the kitchen for half as much recognition, resulting in them shifting to work in food media, or politics, or lifestyle?
Or we can just continue to throw our hands up and claim "there just aren't a lot of women in food!"
Have a tip we should know? tips@mediaite.com