Chris Cosentino, Art Smith, Ilan Hall, and Jill Davie Are Time Machine Chefs!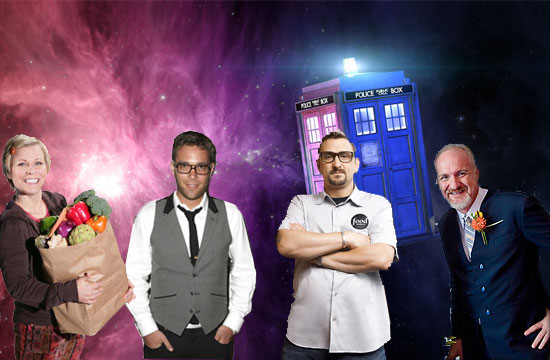 Are you a history nerd? Are you a sci-fi nerd? Do you not care about either of those things and simply dub yourself a food nerd? Well, you're in luck, because ABC has heard your unvoiced desire to watch a show about all three of those things. On August 16th, the network is premiering the awesomely-named Time Machine Chefs.
"Oh my god," you might hyperventilate. "What is Time Machine Chefs?"
Glad you might have asked! The show is a competition between four celebrity chefs — Chris Cosentino, Art Smith, Ilan Hall, and Jill Davie — where they get into their hot tub stumble into the TARDIS must cook food using only equipment from different eras in history.  One week, they'll cook using tools from Queen Elizabeth I's reign. The next, they might use pottage from medieval China. Or they might play a rousing game of Iron Age Chef and cook food for the poet Homer. Who knows? It's a (metaphorical) time machine. It can go anywhere.
Oh, and by the way, when they say "historically accurate," they mean "historically accurate": that means no running water or electricity or comfy modern amenities or appliances. Only era-appropriate tools. My goodness, the history possibilities are endless! 
The four will have to place their courses in front of a panel of historically-inclined judges. Master baker Nancy Silverton of LA's Osteria Mozza joins Dave Arnold, who's known for his history/molecular gastronomy-inspired drinks at Booker and Dax. And of course, you can't have a time traveling show without a British person, whose Doctor-like role will be played by the famed (and aptly named) Silvena Rowe of the London restaurant Quince.
Excuse us, we're going to make some historically-accurate costumes to wear when we watch this premiere on August 16th, 9/8c.
[h/t Geek Invaders]
Have a tip we should know? tips@mediaite.com