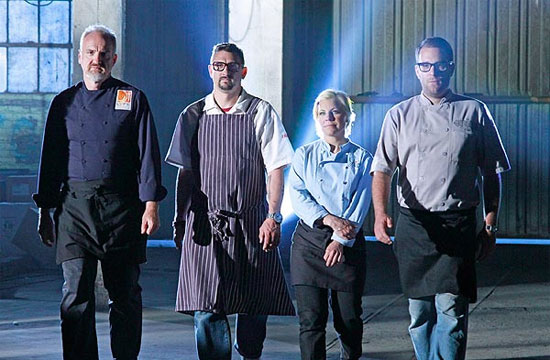 We might have been the only people in the food media world who felt any sort of genuine excitement for Time Machine Chefs, which premiered last night on ABC. And there were plenty of reasons to think that the the premise was, to be honest, pretty stupid — all of which the show certainly delivered on last night. (See: any time host Random Hot Lady Who Will Never Be Padma Lakshmi pokes her head out of the time machine, the old Chinese women walking around a marketplace in the "Ming Dynasty," or the moments where you can clearly tell that they tried to surgically attach Doctor Who to Top Chef.)
Maybe it's because the nerd quotient in this show is so high that we're willing to not just forgive it, but love it: time travel? History? Fake fridge TARDISes? Ilan Hall and Jill "Barfing Lemons" Davie trying to pretend that they're really worried about being left in a SoCal film production lot back in time?! As with all great cooking competition shows, though, the main appeal is seeing celebrity chefs adapt to some truly ludicrous situations.
And the show starts becoming the food porn show of your nerd dreams when they display bizarre contraptions that people used to cook their foods during certain historical periods. (Come on, food people. Don't lie pretend that you were never curious about what historical re-enactors were cooking when you went to Plimoth Plantation.) For instance: in the Tudor era, where they had to cook cockatrices (animals attached to other animals' bodies to create a weird, fancy new animal for Henry VII's grotesque eating pleasure), rotisseries were run by small dogs wearing Elizabethan ruffs running in giant hamster wheels.
You know what's sad, though? That despite all of the attempts of being a show about celebrity chefs in crazy setups, they never spend any time on the legendary bromance of Art Smith and Chris Cosentino, whose relationship is pretty much a Neil Simon play that takes place on the kitchen set of a television show. (There's so much that indicates that they probably spent the entire episode sniping at each other, but with only one episode and plenty of peacocks to roast, we can, sadly, understand the editors' need to cut their material out.)
In fact, with the "Greatest Chef in History" being crowned on the very first episode, this looks like a one-off instead of a long-running reality series. Or maybe it's the pilot for some game show — like Where In Time Is Carmen Sandiego, but with food. Whatever it is, at least everyone involved knows just how ridiculous the entire premise is.
Footnote: Judge Dave Arnold seriously looks like Paul Ryan and thus boggles our mind when he starts shooting air up the butt of a duck.
Have a tip we should know? tips@mediaite.com