TIME Magazine Writes Article About How Their 'Gods of Food' List Excluded Women, Eats Itself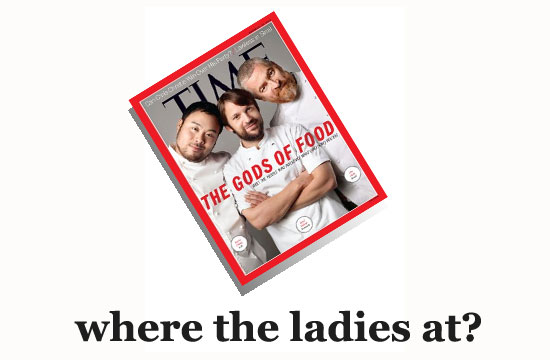 After Eater, The New York Times, and practically every other publication on the planet rebutted an ill-advised TIME Magazine list of Chef Gods that, for a foolish reason, did not include a single female chef, the august institution finally did something about it.
They wrote an article about how they made a list that got female chefs pissed off.
(Okay, it was really more along the lines of "prominent women restaurateurs weigh[ing] in on what's holding female chefs back." Everyone, Lean In this time, because we totally forgot about ladies last time! Oops!)
We do have to give props to TIME, because they allowed themselves to get pilloried by a half-dozen accomplished female chefs (Barbara Lynch, Amanda Cohen, Alison Barshak, and the Mighty Alice Waters among them). Notably, Cohen took The Media (cough cough TIME) to task for never covering women:
"I haven't encountered any sexism in the kitchen," she says. "The media chooses not to write about women. If there's a male chef and there's a female chef, the journalist will always choose to talk about the male chef first." Because the women don't get the press, they don't attract the investors and they can't hire the PR people and the whole thing rinses and repeats.
And like how the unrecognized female chef phenomenon is in a neverending cycle, so too is the cycle of controversy: TIME writes a controversial article, then writes another article about how they wrote a controversial article. The circle is complete.
[TIME]
RELATED:
The New York Times Does The 'Lady Chef Debate' Right by Actually Asking Female Chefs for Their Opinion
After Reading Amanda Cohen's Response to TIME, We Declare Her Ruler of Lady Chefs
WATCH: TIME Magazine Makes Chang, Atala, And Redzepi Wear Toques in The Woods
Have a tip we should know? tips@mediaite.com