Timing is Everything: Restaurant Startup Recap
Last night on Restaurant Startup we meet two teams of hopeful restaurateurs who are ready to go with their concepts. They have the menu and the location ready to go. But, they need an investment from Joe Bastianich or Tim Love before they can pull the trigger on a lease. If they going get going ASAP, they'll lose their spaces.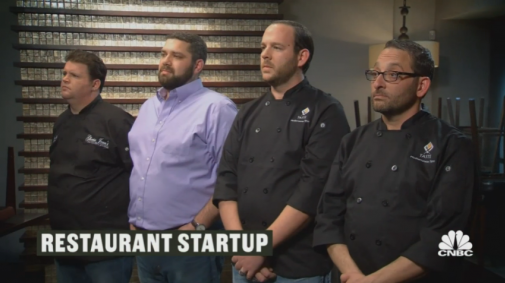 First, we meet Robert DeBinder and Travis Gunter, who already operate a successful restaurant in Kingston, Tennesee. They're looking to expand to Knoxville. They've already got the location, but they need to make moves if they don't want it to slip out from under them. The restaurant is named for Robert's grandmother, who inspired his cooking and taught him everything he knows. Travis, a recovering addict, is the executive chef, and currently does not have a stake in the restaurant. They cook Southern comfort food, and everything is scratch made. Tim and Joe both love the food they sample which includes fried green tomatoes and shrimp and grits.
At some point during the pitch, Joe becomes literally irate because Robert doesn't want to raise the prices too much with a Knoxville move. I'm not really sure that that's the issue at hand right now, and I definitely think Joe's feelings are too "big." (See: Antonia's big feelings from two episodes ago).
The Ask: $250,000 for a 30% stake in a second location of Gloria Jean's
The second group to come through is Taste. Owners Clayton Farhood and Steven Bradley are not only business partners, but they're life partners too. They're from Oklahoma City. They already run a deli-style place that serves Lebanese food, but now they want to open a full-service restaurant that serves Lebanese small plates and appetizers.
Tim and Joe like the guys a lot, and they like the food enough, though they're not as crazy as they were about the Gloria Jean's food. More importantly, they're not thrilled about the fact that neither Clayton nor Steven has ever run a restaurant before. Joe doesn't like a restaurant concept where "everyone is doing everything," because it's a recipe for disaster.
The Ask: $300,000 for a 30% stake in their new concept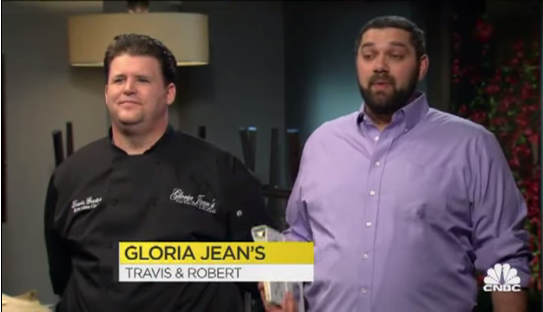 As I predicted yesterday, despite the overwhelming majority of votes for Taste on the CNBC website, Tim and Joe pick Gloria Jean's. They're hesitant to change their menu prices, and I don't know why everyone is dancing around the issue, saying that Robert and Travis need to  "know their worth." How about saying that the rent is really high and they're not going to be able to afford it if they don't up their prices? Antonia gets through to them by saying they're selling an "experience," which for some reason, Robert suddenly gets behind.
When Antonia tries the food she calls the acid in the relish on their catfish "beautiful," to no one's surprise. Does she know other words for describing food?
Service is pretty much a disaster start to finish and Robert behaves exactly how you should never act when you're asking people for money/doing a job interview of any sort. People are waiting 90 minutes for food, Robert doesn't know the table numbers and essentially messes everything up. Travis has some kinks in the kitchen at the beginning but eventually finds his groove and does a pretty good job. When Joe tries to help Robert out, he gets pissed off and starts going on about what a prick Joe is. I agree with Robert on this. Joe knew he was pushing Robert's buttons, but come on. You don't call your potential boss a prick.
The Stats:
92% of the people liked the food.
90% thought the quality of the food matched the price.
$38 check average.
1.25 turns  of dining room, they were hoping for two.
The Offers:
Neither Joe nor Tim makes an offer.
Currently:
The Kingston location of Gloria Jean's still exists, though they've returned to their original prices. They are seeking new investors for their second location.
See you back next week!
Have a tip we should know? tips@mediaite.com