Landlords Kick Todd English Out Of Flagship Restaurant Olives, English Pretends It Was His Idea All Along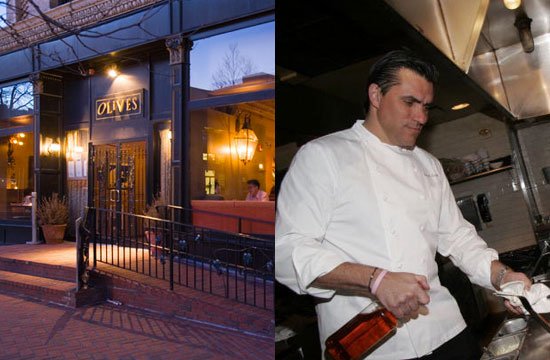 The English have historically been screwed over by Boston, as yesterday should have reminded every red-blooded American, and in a symbolic attempt to celebrate its birthday, Parks and Recreation-style, Boston symbolically kicked out an English. Specifically, they kicked Todd English out of his flagship restaurant, Olives.
As one of multiple lawsuits between English and all of his landlords, a judge allowed the owner of 10 City Square in Charlestown to forcibly shut down Olives in lieu of the $780,000 English owes in unpaid rent. Universal Hub reports that English apparently stopped paying rent on his own flagship in early 2010, before a fire shut down the restaurant for two years. (The landlord blames the fire on — you guessed it — English's mismanagement.)
But whatever, guys, English was gonna move out in the first place! He's going to a "new and shiny location," with cooler landlords who are so cool! He even has an Official Press Release to prove it, which, if we've learned anything in the past few weeks, means that whatever he says is true:
"Charlestown is and will always have a special place in my heart. It is with sadness that I will be leaving this neighborhood. We have been here since 1989 and so many wonderful memories are tied to this place. But with the incredible way America's culinary landscape has been evolving, I have decided that Olives – my first and signature restaurant – must also evolve."
Ooh, a new Olives! What's that gonna look like? Huh? TELL US PLEASE WE'RE SO EXCITED.
"Well, lets just say it will be a surprise. It will be a true representation of the evolution of America's hunger for freshness and diversity, but also stay true to Olives Mediterranean roots."
Shiny? New? Surprises? This would be really convincing, if we were five years old.
This is the second restaurant that Boston has shut down due to unpaid rent: last year, his Faneuil Hall restaurant Kingfish Hall was shut down.
[Universal Hub via Eater]
RELATED:
Todd English's Cruise Ship Restaurant Contains 'Near-Toxic Levels Of Smugness And Pomposity'
Todd English Must Pay Bostonians $1 Million Or They'll Tar And Feather Him
Todd English Slammed With Yet Another Lawsuit, This Time For $723,000
Have a tip we should know? tips@mediaite.com