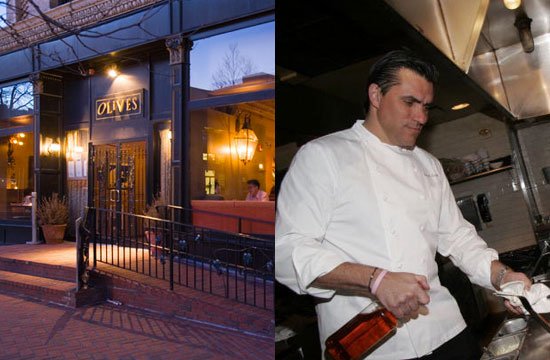 How many lawsuits does Todd English have on his plate? According to the Boston Globe, the magic number is "at least six"! And the latest hits closest to home — actually, it hits directly at home: a realty company is suing English for unpaid rent at his flagship restaurant, Olives.
Proving that English has as many lawsuits as he does reality television shows and commercial exploits, the suit, filed in Suffolk Superior Court, says that he owes his Boston landlords $723,000 in unpaid rent. Though the restaurant had temporarily closed after a kitchen fire and recently reopened in April (to tepid reviews), the plaintiffs, Carey Realty and City Square Holdings, say that the fire — and all the unpaid rent accumulating afterwards — was totally English's fault.
"The fire was caused by Olive's [sic] negligence in failing to clean the grease from the duct work that served the premises, allowing it to accumulate and become combustible," they claim. "After the fire, Olive continued to default on its monthly payment obligations under the lease."
The fire took place on June 2010, but after that, according to the suit, English didn't pay rent until this past May, and missed payments due in August and September. (That's more than two years' worth of rent — jeebus.)
Recently, another English property in Boston, Kingfish Hall, was evicted after English failed to make rent (also destroying the historic building it was housed in, like a jerk). With Olives in the same precarious position, English has only one option to salvage his finances: become a diva.
[The Boston Globe h/t Eater Boston]
Have a tip we should know? tips@mediaite.com