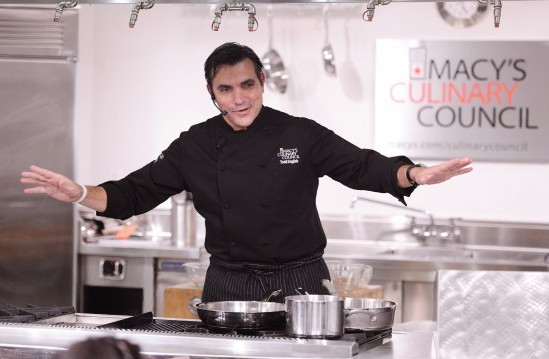 When news broke yesterday that Todd English might be doing a reality TV show on the E! Network, our immediate first thoughts were "KARDASHIANS. KARDASHIANS. DANGER DANGER KARDASHIANS." The last thing anyone in food media needs is an even deeper look into the alternate reality that is Todd English's personal life, filtered through the talking-head testimonials of the Kris Jenner figure in his life. (We really hope he doesn't have a Kris Jenner figure in his life.)
But the Boston Herald, quoting a source very close to English, said that the production isn't going to be "your typical Kardashian ego fest." Instead, it's a "rather serious" look at the inner workings of the New York hospitality industry," complete with other starring figures such as Anna Boiardi, heiress to the Chef Boyardee brand.
"It's not a reality TV show as much as it's a docu-series," the source "dished" to the Herald, and we shuddered a bit from hearing the worst food media buzzword ever. "So it's not a show about Todd English, it's a show where many different New York restaurateurs and industry folks are going to be featured."
Oh thank goodness. Look, Todd, you have many upstanding qualities, but we would have been plum tuckered out from having to watch you whirl through your crazy life, running all your random businesses, dealing with all your crazy exes, and doing all of those parties, without a single moment where you pull out someone's weave and throw wine in their faces.
[Boston Herald h/t Eater]
Have a tip we should know? tips@mediaite.com