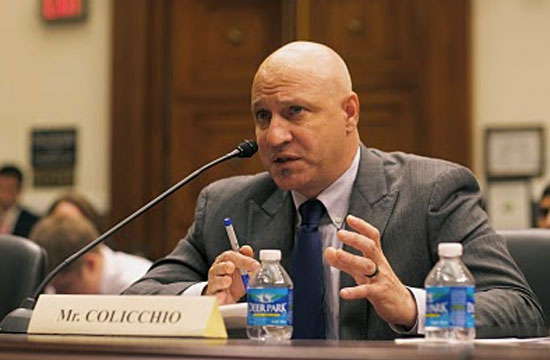 Of every single chef we've ever covered, it's safe to say that Tom Colicchio knows his way around Capitol Hill the best. The Top Chef judge was spotted at the Capitol by the Roll Call news vultures, urging members of Congress to vote down the latest draft of the Farm Bill.
Why on earth would Colicchio want to keep a very imperfect bill as law, instead of allowing Congress to amend the agricultural bill renewed only once every five years? "The status quo is better than cuts," he told a group of lawmakers during a hunger awareness event yesterday. "What we're hearing, we're not happy with."
Last year, Congress voted to renew the current budget for the Farm Bill, but this year, lawmakers are looking to cut between $20 and $25 billion from it, according to Heard On The Hill. Both the Senate and House Agricultural Committees have scheduled markup (the excessively long meetings where they draft the new bill and argue over the wording of each amendment, also known as "legislative hell") on May 14th and 15th, and according to Colicchio's gossip, a majority of the proposed cuts take aim at social programs such as Supplemental Nutrition Assistance Program (SNAP) — for which he tirelessly advocates.
"We shouldn't be starting at the zero level. We should be looking to invest in these programs," Colicchio argued. "We need to move this away from being about welfare to one of investment in the future." Shockingly, he also predicted that the Democrat-controlled Senate would likely vote to keep the Farm Bill in its current state, as would the GOP-controlled House, thanks to some ultra-conservatives whose interests are with the status quo.
Though plenty of other chefs have worked their way around the cocktail circuit on Capitol Hill, none have the visibility of Colicchio — which, we think, makes him the George Clooney of culinary lobbying. (Now he just needs to get arrested for SNAP, and our analogy will be complete! Do it, Tom. We dare you.)
Have a tip we should know? tips@mediaite.com