Tonight in Food TV: Anthony Bourdain Wants All Spice, No Politics, on Parts Unknown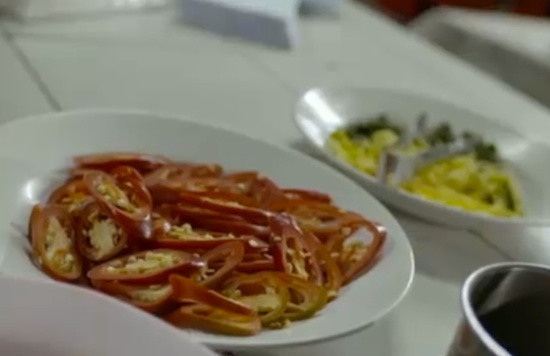 There's always some sort of context to Anthony Bourdain's "behind the scenes" commentary on his Tumblr; and while he talks about food in politics, we couldn't help but also think of his recent award from the U.S. Muslim Public Affairs Coucil based on his Israel Parts Unknown episode. Might he have rephrased his beliefs on food and politics in Palestine and Israel to fit the Thailand episode?
From his Tumblr:
There is, of course, nothing more political than food. Food itself. Who's got it, who doesn't. "What's" cooking is usually the end of a long, often violent story. That can be a bummer for some—who'd rather be fondling themselves while perusing recipes for bundt cake than thinking about what Burroughs called the "frozen moment when everyone sees what is on the end of every fork."

So there should be much rejoicing in chowland that this Sunday's episode of PARTS UNKNOWN is "all about the food." Ironically enough, it takes place in one of the most politicized environments on earth: Thailand—where, it seems, every time we go, there are civil actions, military coups, changes of government. I'd like to say that the politics of Thailand are just too complicated, too fast changing, too impenetrable for me to ever understand much less explain, hence my focus on food and drink. I'd like to say it was because the latest military takeover happened after we were there—rather than just before—or during. But that wouldn't be true.

Fact is, I chose to focus on eating—and specifically drinking in Northern Thailand around Chiang Mai simply because I was fortunate enough to go there with a uniquely qualified guide. Chef Andy Ricker of Portland and New York's "Pok Pok" restaurants. He may be a farang, but he's been moving back and forth between Thailand and America for 20 years or more and…well…just eat his food sometime and you'll know what I'm talking about.
Way to go, Andy Ricker. It looks like only Ricker can really handle the spice. But point being, Bourdain only cares about food, guys, so back off. And spiciness. Oh man, do we want drunken noodles now.
RELATED:
Tonight in Food TV: Anthony Bourdain Tackles Mississippi Racism, Eats Collard Greens and Pig Ear Sandwiches on Parts Unknown
Bad Teacher: Bourdain Spotted Teaching AP Writing
Tonight in Food TV: Parts Unknown's Russian Adventure Could Not Be Better Timed
Have a tip we should know? tips@mediaite.com