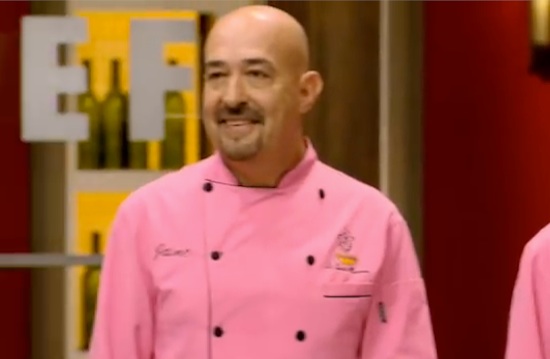 Welcome to our Spanish-speaking friends of Telemundo and Top Chef Estrellas! We can't wait for the batshit craziness to begin.
Entertainment Weekly and Eater share the deets of the new telenova version of Top Chef, premiering tonight on Telemundo. But in true form, the new Spanish-speaking Estrellas (which translates to "Top Chef Stars") version will be completely different. Says Entertainment Weekly, the new version "will feature eight Spanish celebrities cooking against one another in competition to raise money for charity." So no, this isn't really Top Chef at all:
The trailer for this incarnation of Top Chef promises "spicy new ingredients," like a a blonde who seductively tears off her chef coat, a hunky guy who appears shirtless, and a handful of fully-made up Spanish TV stars who prance around in the kitchen in high heels.
Muy caliente! But yeah, it's all a sham, says José Andrés.
@Nina_Terrero @TopChefEstrella well this was supposed to be called cooking with the stars! Not Top Chef!But TV is TV and if it entertains…

— José Andrés (@chefjoseandres) February 12, 2014
— José Andrés (@chefjoseandres) February 12, 2014
Doesn't mean we still won't enjoy it though. Check out the very long trailer of Top Chef Estrellas below.
[Entertainment Weekly, http://eater.com/archives/2014/02/14/watch-the-crazy-preview-for-top-chef-estrellas.php]
RELATED:
Top Chef Casting Season 12 in Its Customary Alum-Owned Restaurants
This Interview with Top Chef Winner Nick Elmi Is the Most Philly Thing Ever
"Top Chef New Orleans Last Chance Kitchen: And the Winner Is…
Have a tip we should know? tips@mediaite.com