Betting on Top Chef Duels, Episode 3: Mike Isabella Versus Antonia Lofaso (Updated with Winner)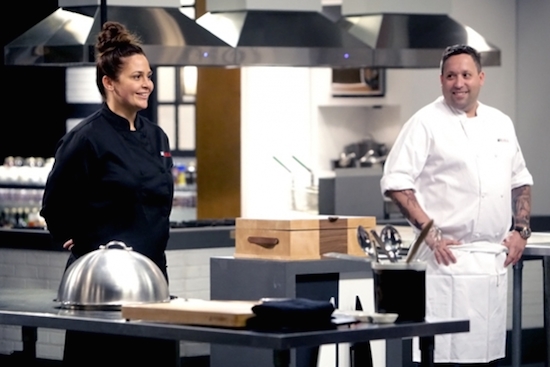 Because there's never enough Top Chef, so says Bravo, we are now privy to the newest of the franchise spin-offs: Top Chef Duels. Let's get the cockfight going and see who wins these battle of the brawn — er, culinary challenges — of the season.

Episode 3: Mike Isabella Versus Antonia Lofaso
From Bravo:
Revenge is a dish best served. . .well, any temperature on Top Chef Duels. D.C. restaurateur Mike Isabella and LA restaurateur Antonia Lofaso have a long, storied Top Chef history. Besides discovering that they are cousins on All-Stars, Mike's victory prevented Antonia from moving on to the finale. Now can she take him down in the duel? First Antonia challenges Mike to make a better rice ball, then Mike gives Antonia a fish and shellfish butchery challenge. For the Duel, these competitive cousins go head-to-head in an Italian-themed smack down. Michael Chiarello joins the judges as well as the Chefs' families to pick the winner. Who can win the family feud?
Accolades Between the Chefs: Isabella won Food & Wine's "The People's Best New Chef Mid-Atlantic" award, and was the runner-up in the All-Stars season. Both have lots of restauranteur expertise, coming from the kitchens of Wolfgang Puck and Jose Andres before opening their own restaurants on the West and East Coasts.
Number of Predicted Meltdowns Between the Two Competitors: Lofaso has always been somewhat of a spitfire, so we will guess one major meltdown from Lofaso.
Will This Make for Good TV: Family drama? Uh, duh. But really, Lofaso talks A LOT about killing her cousin in the promos. A LOT. Isabella just says he's going to "beat" her, while Lofaso makes a killing reference at least three times. Girl, it's getting freaky up in here.
Who Would Win in an Actual Food Fight: Lofaso. Again, KNIVES.
Who Will Win: This is a tough one to call: Isabella performed well on All-Stars, but Lofaso went further in her season of Top Chef than her cousin did in his. Since they competed against each other already in All-Stars, Lofaso has more to lose in this duel than Isabella, and really might fight him to the death. While we think Isabella will have more of a steady hand in the competition that his fierce competitor, Top Chef does love a good redemption story, and this could work out well for Lofaso.
Share with us who you think will win this episode — or who would win in an actual food fight.

[Bravo]
Update: We're three for three! Lofaso came out with knives a'swingin'.
RELATED: Betting on Top Chef Duels, Episode 2: Shirley Chung Versus Brooke Williamson (Updated with Winner)
Betting on Top Chef Duels, Episode 1: Richard Blais Versus Marcel Vigneron (Updated with Winner)
Image via Bravo
Have a tip we should know? tips@mediaite.com