Betting On Top Chef Duels, Episode 4: CJ Jacobson Versus Stefan Richter (Updated with Winner)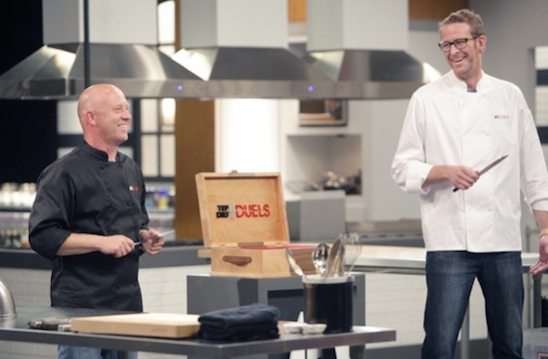 Because there's never enough Top Chef, so says Bravo, we are now privy to the newest of the franchise spin-offs: Top Chef Duels. Let's get the cockfight going and see who wins these battle of the brawn — er, culinary challenges — of the season.
Episode 4: CJ Jacobson Versus Stefan Richter
From Bravo:
Old rivalries die hard. Los Angeles Chefs Stefan Richter and CJ Jacobson duked it out on Top Chef Seattle and enter this duel far from friends. Stefan first challenges CJ to cook with smoke, and then CJ asks Stefan to use products that remind CJ of Stefan. . .the backsides of animals. For the Duel, CJ and Stefan go back to nature for a foraging-themed meal to impress celebrity superstar Shailene Woodley and the rest of the judges. The taste of victory will be even sweeter thanks to the bad blood between these two.
Editor's Note: Oh lord, Shailene Woodley is going to make this SO PRETENTIOUS.
Moving on.
Accolades Between the Chefs: Jacobson went on the James Beard Celebrity Chef Tour after his stint on Top Chef, staged at Noma in 2012, and eventually landed at Studio City, Calif.'s Girasol. Season five runner-up Richter is a successful restauranteur in both California and Finland.
Number of Predicted Meltdowns Between the Two Competitors: Zero. They look cool as a cucumber, both of them.
Will This Make for Good TV: Well, ish. They're both known for being competitive chefs, and Top Chef Seattle brought out little of that frenemy relationship.
Who Would Win in an Actual Food Fight: CJ is all sorts of feisty, man. (Can you call a man feisty? Moving on.) Then again, they're both tamer than the Antonia Lofaso fiasco last week, so.
Who Will Win: Richter has the experience, Jacobson has the spice. Jacobson, like Lofaso last week, has a bit more to lose in this duel, so he may strike it out harder. Plus, his seasonal and locally-inspired cuisine at Girosol might put him in a better wheelhouse to appease Woodley's hippie tastebuds. But our instincts are swaying us to Richter. He was a boss on season 5 and in all of his quickfires, and in the end, you simply can't crack under pressure. Richter has all of that experience under his belt, and we think it will work to his advantage in this duel.
*Update: We were wrong! Bravo, CJ — we don't mind being wrong in this case.
Share with us who you think will win this episode — or who would win in an actual food fight.
RELATED: Betting on Top Chef Duels, Episode 3: Mike Isabella Versus Antonia Lofaso (Updated with Winner)
Betting on Top Chef Duels, Episode 2: Shirley Chung Versus Brooke Williamson (Updated with Winner)
Betting on Top Chef Duels, Episode 1: Richard Blais Versus Marcel Vigneron (Updated with Winner)
Have a tip we should know? tips@mediaite.com