WATCH: Top 3 Moments From Last Night's Top Chef Masters, 'You May Now Feed The Bride'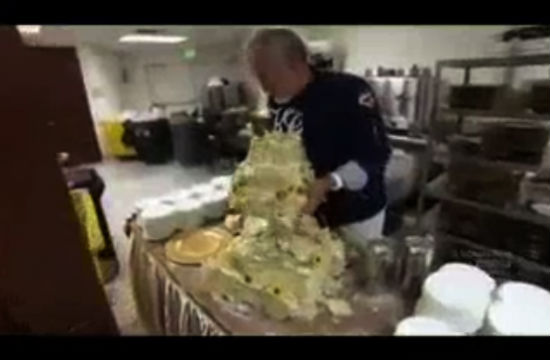 We know you were probably glued to The Olympics from 8pm to midnight last night, and most likely missed out on Top Chef Masters Season 4, Episode 2. But that's why we're here! In case you haven't caught up on your DVR yet, here are the three best moments from last night's TC:M.
1. Chris Cosentino and Art Smith's Tiff of the Week. We're pretty sure this is going to become a weekly segment until one of them gets kicked off. And after Art's cake fail left him in the bottom three, we thought perhaps the fights might come to an end. But, in the end, Art was spared, if only to give us more spats to look forward to. Check out this week's tiff, which involved Chris ganking Art's oven while he tries to bake a wedding cake for this week's wedding challenge.
2. Clark Gaier reveals his inner rage. Last week, everything was puppies and rainbows as the chefs got to know each other, but, this week, the fun and games came to an abrupt halt when Thierry Rautureau tampered with Clark's precisely arranged catering rack. Uh, we believe the unbleeped version would read something like, "I'll fucking kill you, you motherfucking devil. I'll take your head right off"? You know, approximately.
3. Art Smith's cake fail. The man might have baked cakes for presidents, Oprah, and Lady Gaga, but the pressures of the Top Chef: Masters clock got the better of Art Smith this time around. Watch as the wedding cake he baked for the Elimination Challenge topples and the rest of the cheftestants rally around him to (sort of) save the day.
Have a tip we should know? tips@mediaite.com