Top Chef Masters Judges To First Eliminated Chef: 'At Least You Got To Jump Out Of A Plane With David Burke'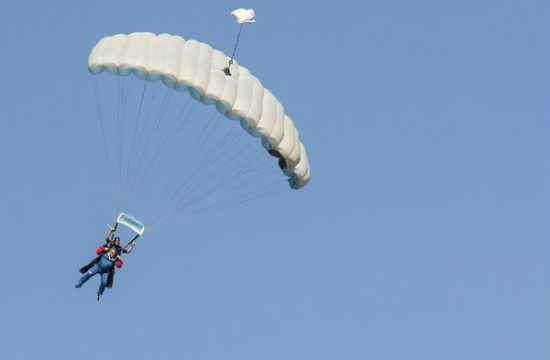 We met a handful of the competing Top Chef Masters of Season 5 and their sous chefs at the show's premiere tasting party, presented by Chase Sapphire Preferred, last week, where we decided that the most appropriate nickname we could conceive of for Herbert Wilson was Chef Gustavo Fring. (Really, their likeness is remarkable.)
Sadly, we'll never get to use the moniker, because he got kicked off on the very first episode. He wasn't even one of the chefs screwed by his sous and robbed of his cooking utensils like the other two guys in the bottom (David Burke and Richard Sandoval). Instead, Herb fell victim to the challenge's time constraints and failed to plate on time, thus pretty much sealing his fate. He nobly copped to his mistake and admitted that he deserved to be sent home, leaving the critics appreciative of his integrity.
Gail Simmons reminded him that it wasn't all bad, and eliminated him with what might be the most soothing words of comfort we've ever heard on Top Chef: "At least you got to jump out of a plane with David Burke."
(Oh, you missed out on the plane-jumping hubbub? Catch up here.)
Check out Herb's classy goodbye below. We'll miss you, Chef Gustavo Fring.
RELATED:
Tonight In Food TV: Top Chef Masters Premieres With a Group Sky Dive, MasterChefs Go Camping
Spoiler: Jenn Louis' Top Chef Masters Sous Chef Performed So Well, He Got A Promotion
WATCH: Sous Chefs React To Top Chef Masters Twist, Get Thrown Into Battle
Top Chef Masters Season 5 Lineup Includes Top Chef Alum Bryan Voltaggio
Have a tip we should know? tips@mediaite.com