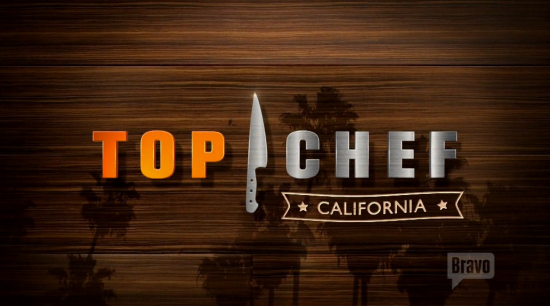 Restaurant Wars started last night on Top Chef, and everyone is pissed off. Everyone knows it's coming and tensions are high. First, we meet the guest judge, Bill Chait. At the time was the head of Sprout, the restaurant group behind restaurants like Bestia and Broken Spanish but in late December news broke that he had left.
The contestants made up a song about Restaurant Wars, and Padma Lakshmi decides that it's a good time to try her hand at comedy by saying "it's not restaurant wars…JUST KIDDING!" Hilarious.
They draw knives and Amar gets to pick first. Karen is second. The teams, in order of selection are: Amar, Kwame, Jeremy, and Phillip, and Karen, Marjorie, Carl, and Isaac. Phillip wasn't picked last, and I am sad. But not too sad, because the reason Amar picked him was pretty sound. Phillip wants the front of house job, and Amar definitely does not because he's normal. Front of house is never a good job.
This year, there's a twist. The teams have to do lunch and dinner service in 24 hours, and each person on the team must take a turn either as the executive chef or as front of the house so everyone has some accountability. Kwame hates Phillip and turns down all of his ideas, which, I mean, same. Jeremy wants to make a crudo and I am now more certain than ever that he does not know how to cook.
Marjorie, why are you being so mean to Isaac?
Carl wants to make a terrine. I've heard of terrines but I couldn't remember what they were so I Google imaged it. Yuck.
Amar's team's restaurant will henceforth be known as District LA. Team Karen's place will be known as Palate. Restaurant shopping is a bummer. Carl doesn't understand forks, and Phillip doesn't understand that not everyone needs to drink everything out of Mason jars all the time. Food shopping is even worse. Marjorie is angry because Carl hasn't organized his grocery list by section of Whole Foods, and Kwame clearly asks Amar to pick up bacon, and Amar doesn't get any.
Back at the hotel, Phillip is bothering everyone with a 42-step strawberry salad that Kwame will need to put together. If I were Kwame, I just wouldn't. But, I'm not Kwame.
At lunch service, it's still tense. Karen is mad at Isaac because he hasn't given her enough instruction as far as what to do. Marjorie is struggling as front of the house because no one will get up from their tables. I feel that. Get up. Kwame is also having trouble at the front of the house, and during service the judges aren't given forks right away. Plus, when they get there, there's no one manning the host stand.
The worst thing that happens during lunch is at District LA, when Jeremy decides that the judge's table should get all of their food before anyone else gets theirs. Phillip disagrees, which makes me angry with Jeremy because I'm agreeing with Phillip. I don't like to agree with Phillip.
The Food: District LA
Everyone agrees that District LA's lunch menu is appropriate, and things they'd want to order, though they do think some of the dishes sound less than interesting.
Kwame: The judges like his soup, although Bill thinks it needs more seasoning. Padma disagrees.
Jeremy: They love his salad dish with the egg.
Phillip: His salmon is cooked well, but his ratatouille is bad and doesn't belong on top of the fish.
Amar: Good chicken dish, but, another chicken dish?
The Food: Palate
Carl: Everyone hates his terrine, which looks terrible. Tom Colicchio, practically licking his plate comments that it's really bad.
Marjorie: Her beet salad is good but it's too easy and there's not much to it.
Isaac: His fish stew looks really good, and the judges like it, but,
Karen: Karen's dish is the clear winner here. They love her steak salad. Padma says she would eat it every day, and it does look pretty awesome. She's been quietly stepping her game up lately.
Palate finishes a good, uneventful lunch service, while Jeremy's choice to serve the judges and forget about the other patrons may prove to be their doom. Lunch service is ending and they still have about ten tables to serve.
Unfortunately, no one goes home so we'll have to deal with Phillip for, at the very least, one more episode. See you next week for Part 2 of Restaurant Wars.
Have a tip we should know? [email protected]