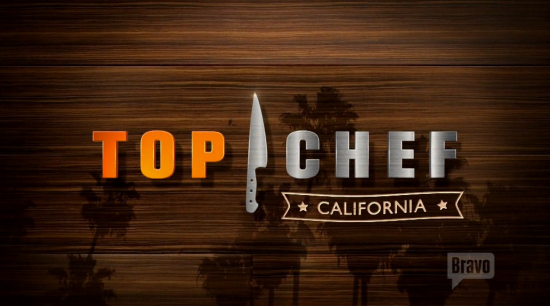 Last night was Restaurant Wars Part 2 on Top Chef and I decidedly did not play our drinking game so that I could write this recap. We get pretty much right into dinner service. The judges noted that while the lunch food wasn't bad, the chefs didn't really "push it." Bill Chait and his mock turtleneck echoed that sentiment. But, that's all behind us now. It's dinner time and Phillip astutely points out that they need to "kill it." He will be the front of house for District LA tonight, and Amar is the executive chef. Tom Colicchio notes that playing it safe will get you sent home. We get it. Stop playing it safe.
In the kitchen, everyone is making too many dishes and it's making my head spin. Marjorie is making bread and dessert and notes that there are LEGENDS about not making dessert and not being the GM. She hopes to crush all of the top chef don'ts.
Phillip is pissing me off as he introduces himself to customers. Shut up about your restaurants. District LA is your restaurant now. Kwame is prepping the approximately 1,376-step strawberry and champagne salad, and it tastes B-A-D. The sauce is too sweet and thick. He asks Phillip if he should add salt, and Phillip says it's fine as it is.
Let's switch gears though, because the judges' first stop is Palate. Karen is friendly, ready and waiting. First is Marjorie's bread, which she says she's never made before. Isn't bread kind of her thing? Hasn't she made bread this very season on Top Chef? Maybe she means this particular bread? The judges love it. Carl and Karen's tripe dish is good. Padma Lakshmi doesn't generally like tripe, but this is cut into smaller pieces and she thinks it works. Bill, who is no longer in a mock turtleneck, also really likes it. Carl's snapper is a hit, but Tom is all, "another crudo?" First of all, this isn't Jeremy. Second of all, do you know why a lot of people make crudo? Because it's good. But I'm glad Tom said something about it because it means Gail Simmons gets to make this hilarious joke:
"They were like…I know what I'm gonna do…I'm gonna make…wait for it…a crudo." HA! Good one.
But, so far, so good. Back at District LA, things are decidedly worse. Jeremy's steak is raw, and Phillip has come up with the brilliant idea of doing a surprise forced cocktail as customers enter the restaurant, made of…sake and pineapple juice?
Cut to Palate. Isaac's lamb is the "best piece of meat they've been served." Take that, Marjorie. Unfortunately, Karen's trout doesn't fare so well. In fact, it's the worst thing they've had so far. Dessert also isn't so good. Marjorie's panna cotta has a strange taste, and the judges don't like the fizz. Her cheese plate is better.
The judges head over to District LA, and literally service could not go worse. The creepy cocktail is, as expected, very poorly received. Kwame's amuse-bouche crudo is horrible, and Gail is irrationally angry with Phillip's strange strawberry course. Amar's gazpacho is confusing, but it tastes okay enough. Had he called it "crab nachos," Tom notes, they would have liked it. The service is as bad as the food. Tom Colicchio's wine glass is filled to the brim, and their plates are always cleared too quickly.
General Manager Phillip, who, might I remind you, asked for this job, is over at one of the tables, just kind of hanging out half shirtless. He is showing off his tattoos to people who don't seem to want to see them. One says "Wolf am I," and the other says "Mother Say You'll Pray For Me." Thanks for sharing, Phillip!
Jeremy's risotto is one of the worst in the history of Top Chef. Padma supposes he used water instead of broth to make it. Remember this for later. Kwame's chicken thigh dish is overcooked and boring. Amar's pork belly is only kind of bad. Back in the kitchen, Kwame is super nervous, and horror sets in when I realize he may go home. Phillip, the only person who was actually there to watch the judges taste the dishes thinks things have gone great.
At the judges' table, the Grey team has clearly won, but only one cheftestant can be the champion of Restaurant Wars.
The Winner: Isaac. BOO. YAH.
The Orange team's dinner was a total nightmare. The judges were disappointed in pretty much every bit of it. Tom mentions how bizarre it was to store and serve a drink at this hostess stand, and Phillip says "thank God I'm not judged on the cocktail, right?" Gail is, somehow, personally offended a second time. Of course you're being judged on the cocktail, Phillip. You made it and served it to the judges. Tom uses the time he has to judge Kwame's food to jump in with the second excellent joke of the night, lest he be shown up by Gail: "for an amuse…not amusing."
Phillip is trying to explain his dumb strawberry dish with excuses about how he didn't assemble it, Kwame did. Kwame tosses the blame right back to Phillip by saying he tried to save it. Padma asks Jeremy, knowingly, what kind of broth he used to make his risotto. He tells her he used water. Padma could not be more pleased with herself that she was right. Amar's leadership skills also weren't up to par. Who packs their knives and goes?
Phillip.
And, just when I thought the evening couldn't get better, he leaves us with this: "I came into this competition thinking that no matter what, I'm gonna cook flawless food. The judges may like or dislike what I do but they won't be able to tell me I did it wrong."
YOU ARE FLAWLESS, PHILLIP. You are the most perfect version of yourself that there ever could be. But, bye.
Next week, we're off to the bay area. There are tons of woos for the bay area. See you then!
Have a tip we should know? tips@mediaite.com