Top Chef Recap: Where It All Started
We're down to five cheftestants on Season 13 of Top Chef and are one episode out from the two-part finale. Carl muses, "It's been a marathon of a competition. I've run marathons before and you try to save your best for the last five miles." Good metaphor, Carl.
The chefs arrive at The Commissary in San Francisco, where Padma Lakshmi and chef Traci Des Jardins meet them. For the last Quickfire Challenge before the finale, Padma tells them they'll be making a "delicious………………………….(longest pause ever for DRAMA) slice of toast." Traci Des Jardins explains that toast is now #trending, and that it started in San Francisco, and that they make avocado toast in one of her restaurants. One quick thing RE: the toast, though. The two chefs with the worst toast will challenge each other to a duel, Hamilton style. Really though, they'll go head to head in a sudden death Quickfire Challenge. I've been listening to too much Hamilton.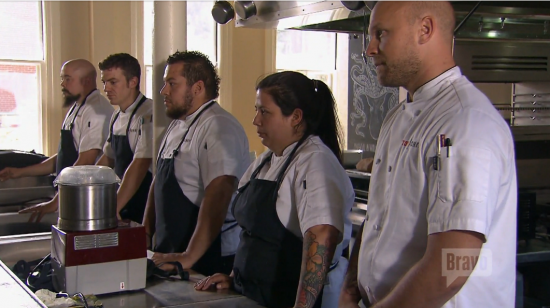 Amar is using raisin bread as his toast base, and is topping it with fig jam, foie gras, duck breast, and balsamic-truffle glaze, a dish that would probably sell in a restaurant for about $200. Marjorie is going classic San Fran- sourdough bread with dungeness crab. Carl is taking us to Calabria, where he assures us they do mix fish and cheese, and is making shrimp toast with blistered cherry tomatoes and burrata. If you have to assure people that your dish is food, Carl, you don't do that during the last five miles of a marathon. Jeremy uses ciabatta and tops it with chicken liver mousse, pickled cherries, arugula and jalapeño. Isaac slathers ciabatta in butter, and tops it with a red pepper spread and proscuitto.
Padma and Traci taste the chefs toasts. Jeremy is the winner of the challenge, but Amar and Carl don't fare so well. Amar's dish had too much sauce, and no one gives a sh*t that they mix burrata and cheese in Calabria, because we're in San Francisco now. Time for the dual. To judge, they're going to need a third opinion. Time for another too-long pause from Padma, who introduced Tom Colicchio, surprising no one.
The challenge? Make a dish. Any dish. No guidelines. Just prove you deserve to be here. Carl is going to make a crudo, and Amar is searing fish. Jeremy, high off his win, makes way too much observational commentary during the entire process that nobody needs. We're all watching.
Padma is saucy tonight. She asks Amar, "have you ever worked with these flavors before?" To Carl she says, "another crudo, huh?" Each judge gets to vote. Padma chooses Carl's crudo, and Tom chooses Amar's white fish. Traci is the tiebreaker, and she picks Carl's crudo. Amar is eliminated.
For the elimination challenge, the chefs will cook in Hubert Keller's once legendary, but now closed restaurant, Fleur De Lys. For one night only, the place will reopen for dinner for some of Hubert's friends and other VIPs. Carl decides he's going to make foie gras, which is a three day process. He has three hours to do it, so this should be no problem. I can never understand these kinds of decisions. Marjorie is going to go with a simple lamb dish, which is nothing crazy, but she also has no room for error. Jeremy is going to make branzino using LIKE THE MOST OLD SCHOOL TECHNIQUE EVER, BRO. Isaac is making duck ballontine.
In the kitchen, the pressure is most definitely on. Tom and Hubert decide to go pay the chefs a visit, specifically, it seems, to stress them out. They remind everyone of exactly where they are and taunt "cautiously optimistic" Carl about the fact that he does not have nearly enough time to make his foie gras.
It's tasting time and Isaac is up first. He presents his ballontine, and, once he's explained it, Padma rudely dismisses him by saying "that'll be all."  The dish is okay, but everyone agrees that the meat is overcooked and dry. Gail Simmons wants more refinement. Marjorie is next. Hubert likes her dish enough but the lamb needed more resting time, which sounds like something you would only say about the animal while it was still alive. No matter. Jeremy hits it out of the park with his inspired branzino. Carl, of course, fails miserably. His foie gras is pretty raw. Probably because he had 2 days and 21 hours less than he needed to make it.
The judge's table is pretty much a mess. Marjorie breaks down in tears. Jeremy wins his second challenge of the episode, and Isaac and Marjorie are safe. For now. Carl is eliminated.
Next week is the finale in Las Vegas. See you then!
Have a tip we should know? tips@mediaite.com