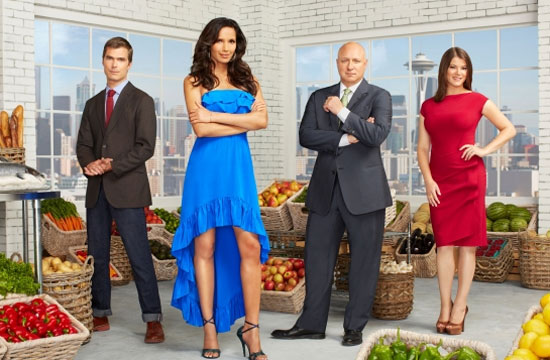 Largely as a result of Carla Pellegrino's crazy mouth, last night's episode of Top Chef: Seattle really lent itself to a "Best Of" recap.
Plenty of notable moments occurred, like John "The Most Hated Chef In Dallas" Tesar racially profiling Kuniko Yagi's sashimi slicing skills, before being scolded by Padma Lakshmi for planning his team's Quickfire Challenge while she was speaking. Fool.
And then, of course, there was the night's biggest bombshell: Josie Smith-Malave, Chris "CJ" Jacobsen, and Stefan Richter (who recently had an oh-so-convenient cameo on Life After Top Chef) were introduced as the Quickfire judges, only to be reintegrated into the competition as contestants this season. That's some Bravo Elf Magic, right there.
Ultimately, Jeffrey Jew went home for sending out "hockey puck" fish, overcooked beyond measure. Kuniko won, and we're pretty sure John (who won the Quickfire, and, thus, immunity) might be falling in love with her.
Here were the best one-liners of the evening (interspersed with our own thoughts, in italics).
Chrissy Cambra: "From what I remember, Stefan has an accent, he looks like a thumb, and he's an evil villain."
No, sweetie, you're confusing him with Hosea Rosenberg, who won that season.
Kristin Kish: "Geoduck is great! Except it looks like a penis. A really big one."
We've all been thinking it.
Carla Pellegrino: "I am a chef, but I am also a woman. When I'm cooking, I like to look good. I want to be a James Beard and I want to have a nice ass."
We want to be James Beards, too! (We already have nice asses.)
Bart "The Belgian Knight" Vandaele: "I'm a Belgian native. Belgian food is amazing because we've been conquered so many times, and so we just keep all the best ingredients from everybody who conquered us. I mean, that's a lot of them."
A little European History with your Bravo drama, anyone?
Carla Pellegrino: "I can't be running around like a stupid."
We believe it was Jersey Shore's Deena Cortese who coined the phrase "You're being an annoying." But she's a native English speaker without excuses.
Eliza Gavin: "In the Top Chef kitchen, you can burn something and call it 'Cajun,' you can under-cook something and call it 'mid-rare,' but you cannot under-season. That's the kiss of death."
You can make boring, colorless, flavorless pudding for dessert and call it "panna cotta"!
Joshua Valentine, on alums rejoining the competition: "Fuck them! It's our turn! None of them were able to seal the deal! I hate them all."
Irrational rage.
Stefan Richter: "There's not one person I've met who hasn't said to me, 'Hey, Stefan, you should have won.' Of course I should have won."
Who does sentiment this surprise? No one.
Gail Simmons: "The first thing to put in my mouth in Seattle? Not bad. …That came out wrong."
She's back, boys and girls.
Padma Laksmi: Josie, why do you think you're here [in the bottom two]?
Josie Smith-Malave: I think…possibly…something was…imperfect?
(Tom Colicchio's eyes roll out of his head.)
Stefan Richter on being in front of the Judges' Table: "It's like you're a zebra, you're wounded, and you're walking around Africa…This is nauseating. It's like vomiting. It's like giving birth."
We love it when Europeans try to make similes.
Have a tip we should know? tips@mediaite.com