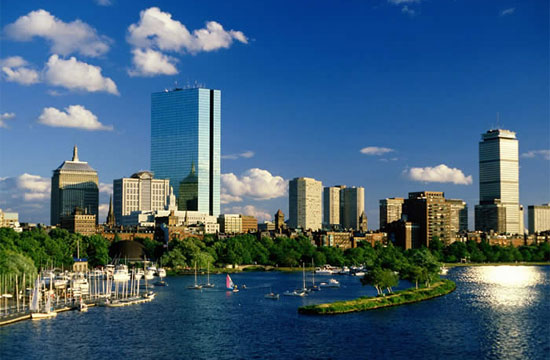 Here it is, the preview of the Boston version of Top Chef. Go get 'em, Sox!
Head judge Tom Colicchio, judges Gail Simmons, Hugh Acheson, and a brand-new Top Chef winner and judge Richard Blais will join host Padma Lakshmi to get down on this New England season, according to a press release from Bravo. What's happening this season: the new "Quickfire" challenges and a "revamped" judges table, whatever that means.
From the release:
This season features some of the franchise's "hungriest" chefs battling it out against the backdrop of Bean Town's flourishing culinary scene. The chefs will go knife-to-knife at iconic Boston locales including Fenway Park, Plimoth Plantation and The Bull and Finch Pub, which served as the inspiration for Cheers and where exterior shots for the show were filmed. Mirroring Boston's own rich history, Season 12 is full of firsts, including the first meal ever served on the field underneath the Green Monster, a challenge using only ingredients that would have been on hand at the first Thanksgiving meal, the first "Top Chef" food festival and the first fan appreciation challenge where fans of the show were invited to dine inside the "Top Chef" kitchen. The show will also feature a challenge highlighting Boston's finest from the police and fire departments.
Chefs to appear on this season: Todd English, Barbara Lynch, Jasper White, Ming Tsai, Jacques Pepin, Ken Oringer and Jamie Bissonette. And the 2014 class of cheftestants:
Doug Adams, 29 – Portland, Oregon
Stacy Cogswell, 33 – Boston, Massachusetts
Joy Crump, 46 – Fredericksburg, Virginia
Ron Eyester, 40 – Atlanta, Georgia
Gregory Gourdet, 39 – Portland, Oregon
Aaron Grissom, 27 – Los Angeles, California
Adam Harvey, 29 – New York, New York
Melissa King, 30 – San Francisco, California
Rebecca LaMalfa, 32 – Chicago, Illinois
Mei Lin, 28 – Los Angeles, California
George Pagonis, 31 – Washington, D.C.
Michael Patlazhan, 31 – Brooklyn, New York
James Rigato, 29 – White Lake, Michigan
Katsuji Tanabe, 33 – Los Angeles, California
Keriann Von Raesfeld, 28 – San Jose, California
Katie Weinner, 35 – Salt Lake City, Utah
[Bravo]
RELATED: Top Chef Season 12 Will Be Held in Boston; Here's Our Wish List for The Season
Betting on Top Chef Duels, Episode 3: Mike Isabella Versus Antonia Lofaso
Have a tip we should know? [email protected]