WATCH: Who's The Top Chef Seattle Fan Favorite? Not Josh Valentine's Mustache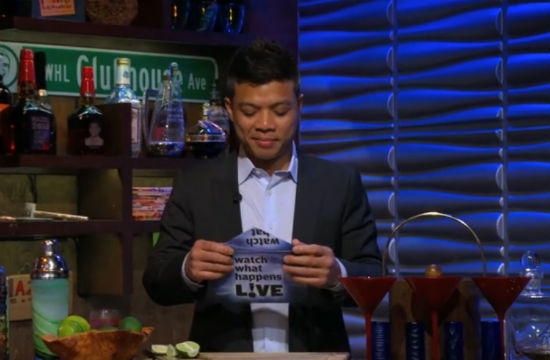 While everyone is busy basking in Kristen Kish's androgynous, model-esque glory, there's another Top Chef Seattle winner to contend with: the winner of Fan Favorite! Results were announced on last night's Watch What Happens Live, which featured both Kristen and Brooke as guests, as well as Season 3 winner Hung Huynh behind the bar. We regret to inform you that Josh Valentine's mustache was ineligible for the vote, but check out the clip below to see who did walk away with the title, and $10,000.
Hooray for Sheldon! (And props to Kristen for calling it.) But what would WWHL be without a fun game devised explicitly for the purposes of spilling tea? Cue "Tattle on Seattle," a game in which Andy Cohen quizzed Brooke and Kristen on their deepest darkest secret thoughts regarding their fellow cheftestants.
And then, of course, Stefan Richter called in, which they mercifully saved for the aftershow, because this hot mess of expletives would have been a lot for even Bravo to handle. When Andy asked him what he thought of the Fan Favorite results, he quickly dismissed them as "fucking bullshit," because he "should have won" on the grounds that he "has a bigger cock" (?! at least we think that's what he said…it was a piss poor connection).
And then once our handsome host was a sufficient number of Maker's Marks in, he began spilling the nitty gritty Top Chef production secrets we all wonder about late at night when we can't sleep. Like the time they did a live finale reveal during Hung's season and production got stuck on a mountain because the judges took so long to deliberate that the ski lift shut down for the night. Or how Josh Valentine admitted that he shouldn't have made it as far into the competition as he did. (Aw, that just makes us want to vote his mustache for Fan Favorite all over again. Wait! Can Baby Georgia be Honorary Fan Favorite? Who do we talk to about that?) Check out all the gossip below.
Have a tip we should know? tips@mediaite.com