Top Chef Winner Sam Talbot And His Beastie Boy Partner Still Serving From Sandy Relief Food Truck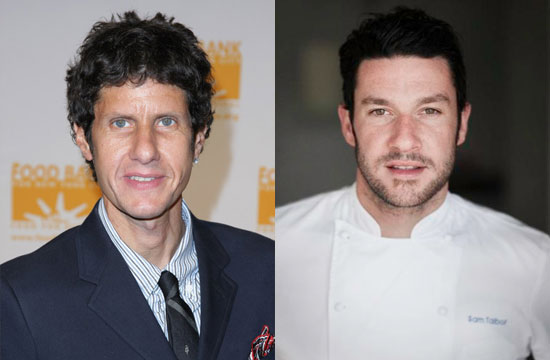 Which unlikely public service pairing spurred by Hurricane Sandy destruction makes less sense: Chris Christie and Barack Obama, or Top Chef's Sam Talbot and Beastie Boy Mike D? Whichever one you choose, you'll have to admit this: team Talbot-Diamond is far less controversial (and way less election-losing).
This week's WSJ Magazine profiles the Rockaway Plate Food Truck, a charity truck which only serves one meal (marinated chicken, black beans, veggies and rice), but continues to serve the residents of Rockaway Beach, months after Sandy made landfall.  Talbot and Diamond, along with Robert McKinley of the Montauk's Surf Lodge  and Waves for Water founder Jon Rose, all happened to be surfing buddies who realized, immediately after the hurricane, that there was a "desperate" demand for hot meals in affected neighborhoods:
Talbot, another friend and surfing aficionado, who'd been the executive chef at the Surf Lodge, came with trays of provisions, feeding both the newly homeless as well as responders. A week later, he was standing on the corner of 45th and Beach Channel Drive, cooking food on a massive grill. McKinley pushed the idea one step further, renting an old Swiss Chalet truck from a man in Tennessee. Just 11 days after the storm, the ad hoc program was fully operational.

Since then, the Plate Lunch team has raised over $200,000 to pay for food and the services of two full-time employees to run operations. And while they serve the same thing every day—marinated chicken with black beans, veggies and rice—the meal is filling and healthy.
The truck will operate until the summer when, who knows, maybe it will turn into a mobile meth lab. And after that, there's no telling what sort of crazy hijinks Sam Talbot and Mike D will get into. What would a Top Chef/Beastie Boys mashup look like?
Oh wait, it would look like this.
Have a tip we should know? tips@mediaite.com