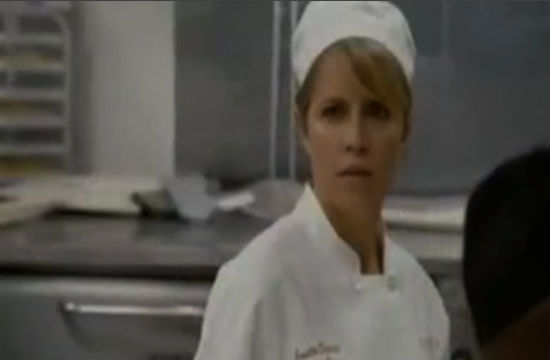 We guess this Atlantic piece is Rolf Potts' opus, and if we were from New Orleans, we might feel inclined to shred apart each and every example of Treme's inauthenticity, too, but we're not from New Orleans, and we love Treme, and doesn't this strike you as just a teensy bit over the top?
Outside of its music-themed sub-plots, however, Treme's mix of the fictional and the real tends to fall flat. The show's food-themed storyline, which centers on a struggling New Orleans restaurateur named Janette Desautel (Kim Dickens), is compelling in the fictional arcs of its first season but it becomes nearly unwatchable when Janette moves to New York to work in the kitchens of nonfictional culinary hotshots like Eric Ripert and David Chang. As with the music sequences, the camera depicts Janette's food preparation with exacting verisimilitude, but her awkward interactions with these real-life chefs consistently distracts. Even when Janette isn't stuck in wooden conversations with non-actors, her character's dramatic stakes diminish as the show fixates on restaurant-industry realism. When, in the third season, she moves back to New Orleans to open a new restaurant, the viewer is invited to consider how one can spot food-bloggers by their cheap shoes, or how annoying it is when patrons order a disproportionate amount of crawfish ravioli after a positive review in Chowhound.

As it happens, the crawfish ravioli incident makes for the culminating event of the show's third-season food arc. Kitchen employees struggle to keep up with demand ("It's a monster," one of them intones, "it'll kill us all"), and Janette ultimately asserts her creative independence by taking it off the menu. No doubt her character was channeling the frustration that real-life chefs encounter in the face of popular-market success, but her resistance to showcasing a signature dish is at odds with the way the show celebrates every other culinary aspect of the city. In Treme, characters don't just eat; they advertise their taste by nattering at length about how Gene's Po-Boys is the place to get hot sausage, whereas Liuzza's by the Track is the place for barbecued shrimp (in Season One, Janette herself eats lunch at Domilise's instead of Parasol's because she prefers shrimp po'boys to roast beef). New Orleans is, of course, renowned for its signature dishes, and Janette's irritation at the popularity of her ravioli feels puerile in comparison with what the cooks at Drago's or Camellia Grill must feel every time someone orders charbroiled oysters or pecan waffles.

Much like Janette, Treme takes pride in not pandering to its audience.
Uh, we don't watch the Treme chef cameos for rousing, Emmy-worthy "Say My Name" moments. We watch them to squeal and clap at how adorable Eric Ripert looks while concentrating on lines, and to occasionally be impressed with David Chang's awkward but honest moments and to hear Emeril Lagasse drop F-bombs. Kim Dickens' "wooden conversations with non-actors" could be a fuckton of a lot worse, and the fact that we still find moments that resonate in these scenes speaks to what a generous actor she is, for one, and how benevolently Anthony Bourdain writes for his colleagues, to boot.
Back up off Mama Saracen, bro. We get very few fictional ladychefs on TV to idolize, and she's doing us proud.
[The Atlantic h/t Eater]
RELATED:
WATCH: Emeril Lagasse Drops Multiple F-Bombs On Treme
Treme: Mario Carbone And Rich Torrisi Attempt To Woo Chef Janette From David Chang's Clutches
WATCH: Treme Season 4 Teaser Offers Hope, Sad Trumpet
Have a tip we should know? tips@mediaite.com